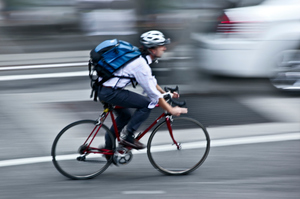 What is it with grumpy cyclists? In last Saturday's Driven, I noted that it was a bit dangerous to let schoolkids hone their competitive cycling ambitions on main roads during rush hour.
Apparently, this makes me "a cock who deep down does think roads are only for motorists", according to one nice chap who emailed me.
While many commenters on nzherald.co.nz agreed that training on Tamaki Drive was a dangerous practice, others saw my suggestion as a direct attack on cyclists.
I have nothing against cyclists, and while I gave up pedal power many years ago, there's no argument from me that we've all got to share the same road.
The aggression between cyclists and motorists is counter-productive to all road users, and some sort of middle ground is necessary. We can toot horns, shake fists and scream obscenities at each other, but the fact of the matter is not much is going to change.
A marvellous national cycleway might be carving its way up the country, but it's unlikely that we'll ever see any progress on making ordinary roads safer for bikes.
This makes little sense considering how many more people are opting to ride bikes, whether its to get to work, get fit or just to have fun.
At this time of year, it's especially important to all of us to follow the rules and take a bit of extra care. Wet paint and skinny bike tyres aren't the best combination, crappy winter weather makes driving (or riding) a lot more challenging, and the chances of a prang are far higher.
No car driver wants to run over a cyclist, and cyclists don't want to be run over. A bit of patience and a bit less finger pointing will help save people's lives.