If a troop of baboons can't damage your car then neither can the kids.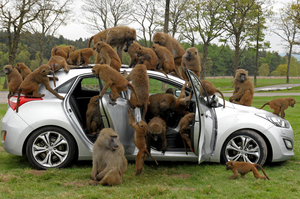 There was plenty of monkeying around when Hyundai Motor UK set its new small car the ultimate wear-and-tear challenge In the first endurance test of its kind in Britain by a car manufacturer.
Cheeky safari park baboons were let loose on Hyundai's new-generation i30 hatchback.
The car has been specially designed for families and their "little monkeys" in the back, with extra strong materials used to build the interior, easy-wipe plastics, tough fittings and high quality metal produced at Hyundai's own steel works.
Baboons from Knowsley Safari Park on the outskirts of Liverpool were chosen for their well-known love of tearing park visitors' cars apart.
And it was monkey business as usual when Hyundai parked one of its i30s in the baboon enclosure, as it was immediately besieged by dozens of the park's primates - emerging 10 hours later almost unscathed.
The monkeys simulated the punishment a typical family might subject a car to: jumping up and down on seats, pushing and prodding buttons and opening and closing storage bins.
They even checked the durability of cupholders with plastic drinking beakers.
Outside, the paintwork was smeared and scraped, but the hard-wearing paint protected the car from major scratches and chips.
Other baboons tested the fabric of seats by eating their lunch in the car and some played with their toys in the i30's sizeable boot.
To give something back to monkeys for their help, Hyundai Motor UK has donated the equivalent of NZ$2000 to one of Knowsley's supported charities, the Primate Society of Britain, which dedicates its work to conservation and captive care of monkeys, gibbons and apes.
"For a baboon, to have a car to play with for a whole day is manna from heaven," says Knowsley Safari Park manager David Ross.
"I've seen thousands of cars pass through this enclosure, get mobbed by monkeys, and none have lasted the distance as well as this Hyundai.
"These baboons are incredibly inquisitive," said Ross. "If you put them on any car they will scour it for the weak points and find any faults. At one point there were 40 monkeys in the car, pushing it to its limits - that's 10 times the size of the average human family."
The i30 is for sale in New Zealand but remember - don't try this at home, folks.