Jack Biddle looks at oiptions for drivers needing to step up.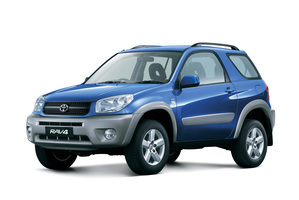 The dilemma:
After years of driving a three-door coupe, Peter has realised it's time to move up - literally.
He is finding it difficult getting in and out of his small Japanese car and is looking at Toyota RAV4s.
"I live alone so don't need rear seats, so am looking at a three-door model, but all I seem to be able to find are five-door RAV4s," says Peter.
He's also confused by comments he's received from car yards.
"I don't want a 4WD, and it appears that if one has an engine size over 2.0 litres the type of cam drive appears to change? What is the difference? What is the better?"
He's also confused over what a RAVJ is.
Well Peter, first the bad news: the three-door Rav4 model is available in reasonable numbers if you are prepared to look hard enough. It also has limited interior space and the drive experience is not overly exciting.
Good news? The 4WD system is passive and not a major worry fore ongoing mechanical problems or suffering from excessive fuel consumption.
And the RAVJ? It's the import version of the RAV4.
The budget:
$10,000
The shortlist:
Toyota RAV4
Make sure you get behind the wheel and cast a good eye over the interior of the RAV4 three-door to make sure it meets your needs. These engines run a cam belt, so sight evidence it has been changed. A 2WD, three-door option is available as a used import.
Honda HR-V
A much underrated used vehicle which may tick a lot of boxes for you. The badge stands for "High Rider Vehicle" so getting behind the wheel is a breeze. If you can happily drive a manual these are almost bullet proof. Like the RAV4 the 4WD system is not designed for robust off-roading.
Suzuki Vitara
Designed to travel off-road, the Vitara is not as refined as the city dwellers. However, it offers good value for money as an around town vehicle. Engines can suffer from timing chain issues so listen for any excessive engine rattle.
Driven recommends:
The Toyota RAV4 (especially if you prefer an automatic) but assume nothing and make sure you carry out a thorough road test before you commit.