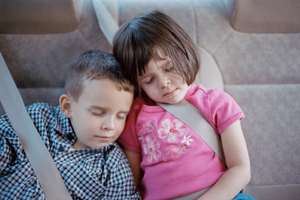 'Are we there yet?' is the catchcry for many kids bored on car journeys.
But Kiwi parents can take comfort in the knowledge their children are the most patient on long car trips, according to an international survey.
Research for car navigation and service company TomTom compared the time it took for children aged 2-8 from nine countries to get bored during trips of 30 minutes or longer.
The average time was 27 minutes.
Kiwi children were found to be the most patient, taking an average of 34 minutes to get bored. Their transtasman neighbours were the least patient, playing up after 23 minutes.
The results were based on feedback from more than 3200 mothers whose children had no form of amusement such as a DVD player in the car.
Resourceful Kiwi mums kept children amused by making up games, offering treats and rewards and even lying about the estimated arrival time.
Average time for children aged 2-8 years old to get bored on a long car journey:
New Zealand - 34 minutes
Australia - 23 minutes
UK - 24 minutes
Spain - 25 minutes
Italy - 26 minutes
Netherlands - 27 minutes
US - 30 minutes
France - 30 minutes
Germany - 31 minutes
Source: TomTom
- APNZ