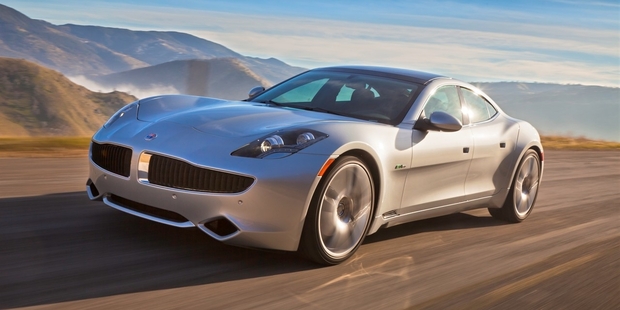 Fire inspector suspects hybrid car to blame for garage blaze.
Insurance and fire investigators in America are probing a blaze that destroyed a new Fisker Karma plug-in hybrid car last week.
The company told Autoweek the cause of the fire was unknown and no injuries were reported.
"Last week, Fisker Automotive was made aware of a garage fire involving three vehicles, including a Karma sedan, that were parked at a newly constructed residence in Sugar Land, Texas," the company statement said.
"There are conflicting reports and uncertainty surrounding this particular incident."
The chief fire inspector for Fort Bend County, in Texas, Robert Baker, said the fire started in the Karma.
"Yes, the Karma was the origin of the fire, but what exactly caused that we don't know at this time," he said. The car was a complete loss.
Baker said the driver arrived home in the Fisker, pulled into the garage, and less than three minutes later the car was in flames. It was not plugged in at the time of the fire and the Karma's battery remained intact.
Baker said the Karma was bought in April. Two other vehicles, a Mercedes-Benz SUV and an Acura NSX, were in the garage.
"I've worked homicide scenes with less secrecy," Baker added. "There have to be about 15 engineers down here working on this one."
A Fisker spokesman said the company had sent engineers to the site.
Fisker said multiple insurance investigators were involved, and "we have not ruled out possible fraud or malicious intent".
"We are aware that fireworks were found in the garage in or around the vehicles," it said. "Also, an electrical panel in the garage next to the vehicles is also being examined by the investigators as well as fire department officials.
"Based on initial observations and inspections, the Karma's lithium ion battery pack was not being charged at the time and is still intact and does not appear to have been a contributing factor in this incident."
Fisker said it would not comment further on the investigation until it was complete.
Fisker had its share of woes recently - 640 Karmas needed their battery packs replaced because of a fault that shut down the stylish four-doors.
The recall followed American watchdog Consumer Reports' test of the car - it paid more than $130,000 to buy a Karma, only to have it break down within 320km.