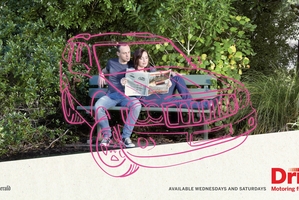 Driven has pulled off the media marketing equivalent of a seven-minute run around the Nurburgring Nordschleife.
In Los Angeles this week, Driven picked up a well-contested gong at the International Newsmedia Marketing Association awards.
A long list of finalists covered more than 80 marketing campaigns from 66 news media companies in 23 countries - and those convincingly overtaken on the back straight by Driven's launch campaign included such notables as the New York Times.
So we're suitably pleased with ourselves, with the "Driven - Motoring From Every Angle" campaign a world champion in the Advertising Sales and Retention category.
But Driven wasn't the only New Zealand Herald publication to win awards. Reaching Out to Rural Markets won the Print and Digital Subscription Sales category, and those environmentally aware folks at Element won the award for New Brand/Product/Audience Development.
Although the Element team don't love the smell of race fuel in the morning quite as much as we do, we'd like to say congratulations to them, and to those behind the very successful Reaching Out campaign.
Both APN News & Media CEO Brett Chenoweth and the chief executive of APN's New Zealand Media business, Martin Simons, accepted the awards on behalf of the Herald.
Simons said it was hugely rewarding for the company's Kiwi teams to have their work recognised in front of an international audience.
"Our Driven product is a great example of a very passionate team, stepping back from the product they were producing and reinventing our proposition by launching a new offline and online brand, successfully targeting a wider read group with more focus on women and casual readers.
"The result has been widely embraced by advertisers and delivered increased readership across the print and online editions," he said. "The brand has also been adopted by our regional titles with great success.
"All this is down to a small team that believe in themselves and the product they produce, passionately living it every day in the market. The results speak for themselves and this international marketing is further reward and recognition."
Mr Simons also thanked Driven's advertising clients and agencies for their help in framing the new format and providing ongoing feedback, which was an important part of its success.
"It shows the quality of innovative thinking and client collaboration by the Herald in developing new products is world-class," he said.
Conference sessions focused on the digital transition of media companies, the explosion of mobile, and the emergence of many new content platforms.