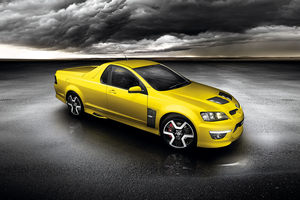 A rebadged version of the ultimate Aussie ute has gone on sale in the UK.
The Vauxhall VXR8 Maloo - the grumpy 6.2-litre ute sold as an HSV in this part of the world - is retailing for over £50,000 ($101,00).
It is the same vehicle that Te Kawhata Lotto millionaire Trevor purchased, despite erroneous reports that he bought a 2010 model.
"Like he'd have to buy a second-hand Maloo," laughed the man who sold the $26.5m winner his shiny black ute.
Vauxhall only expects to sell 50 of the stroppy Maloo, which is capable of 0-100km/h in just 4.9 seconds.