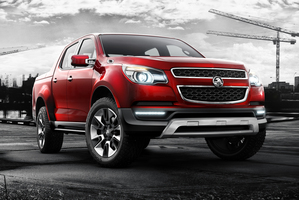 It's the classic Ford v Holden battle - but this time it's as much off-road as on it.
Holden has announced the pricing and arrival of its long-awaited next-generation Colorado ute - and it's going to be fighting head-to-head against Ford's excellent Ranger.
There are four models in the Colorado range, which kicks off at $38,400 and ends with the LTZ model at $61,990. The light trucks will land here in the second half of the year.
Holden has claimed a cross-range payload capacity of one tonne and engine packages ranging from a manual 2.5-litre turbo diesel in the low-end DX 4x2 single cab, through to a 2.8-litre diesel six-speed auto in the LTZ. Those powered by the 132kW 2.8 will be capable of towing 3.5 tonnes, and the smaller 110kW 2.5L will haul three tonnes.
Holden New Zealand's managing director Jeff Murray says demand for the new Colorado is already high.
"We've spent a lot of time ensuring we were able to provide an incredibly competitive Colorado package for our customers that includes great driving dynamics, impressive diesel performance and more than a one-tonne payload on every new model," he said.
"Holden has had a significant input into the new Colorado which has been developed for the global market and has a suspension tune along with many accessories designed to suit our local conditions."
Driven's resident 4x4 expert Phil Hanson agrees that the biggest competition facing the new Colorado will be the Ranger.
"Holden has heaps riding on the new Colorado's load tray," he said, "following last year's introduction of its acclaimed arch rival, the Ford Ranger. It's off to a good start with a 3500kg braked towing rating, 350kg better than the Ford can do.
"Towing's often a weak point of utes, but the Holden's right up there with towing heroes like the Land Cruiser and the Range Rover. Holden will be hoping it has similar pulling power in the showroom."