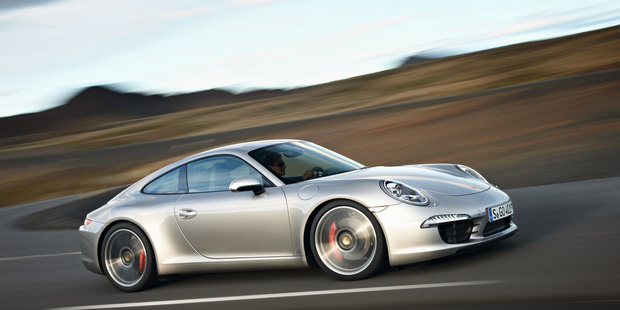 No Porsche 911 generation looks much different from the one before and today's version is instantly recognisable as a descendant of its illustrious 1963 ancestor.
Porsche says 90 per cent of this car's components have been redesigned or redeveloped, and the 991-generation of the 911 is longer and lower, with a wider track and more muscular haunches to accommodate the new underpinnings.
The standard car gets a 3.4-litre flat-six boxer engine; our 'S' tester used the 3.8 with 294kW and 440Nm sent to the rear 20-inch wheels via the lightning-quick, seven-speed, double-clutch transmission. With 'Sport Chrono', that despatches the zero to 100 sprint in 4.1 seconds, and laps the Nurburgring Nordschliefe 14 seconds faster than the previous model. Yet through stop-start, a "coasting" function and a suite of improvements, fuel economy is claimed at 8.7l/100km.
I admired this 911's refinement and relative compliance in normal mode. Then selected "Sport", mashed the go-pedal to the floor and released a feral howl from the engine sitting just behind me, before hurling it through some taxing swervery.
The 911 remains agile in either mode compared to its tail-happy forebears, though it takes time to appreciate the less fidgety steering, confident front end and more settled feel in even manic Sport Plus mode. There remains that whiff of danger in the sportier settings but this generation delivers a quieter, quicker, more comfortable experience when you're not going all out.
This is a surprisingly practical car. It won't carry a normal adult in the back, but I did fit a child seat there to hold my delighted niece. And the 135-litre "boot" under the bonnet easily fits weekend luggage for two plus 205 litres behind the rear seats.
Our test car packed extra kit, including the $850 front and rear park assist you'll need if you do drive it every day, which took the $262,000 standard auto price to $278,725.