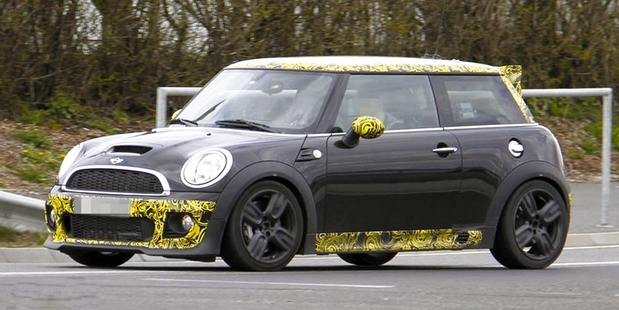 Sneak peek reveals guaranteed collectors' item
The Mini John Cooper Works Grand Prix II has been spotted by Automedia. Mini has already confirmed that the new John Cooper Works GP hatchback will go ahead as a follow-up to the original GP edition.
That was released in 2006 and quickly became a collector's item. The picture here shows the test mule with its lowered ride height, special alloys, a deep front splitter and rear spoiler reminiscent of the previous GP. A twin exhaust and diffuser complete the look at the rear. It will have a weight-saving carbon fibre roof.
The original GP had a stripped-out interior with the rear seats replaced by an exposed strut brace and the new car is likely to repeat this. It will also have an uprated 1.6-litre turbocharged engine producing about 165kW, plus stiffer suspension. The new hot hatch will be revealed at the Mini United event in the south of France this month. Production will be limited to just 2000 cars.
Stryker force
Troops take anti-terrorist tactics back to roads at homeStryker drivers keep well clear of the roadside to avoid mines.
United States troops on foreign battlefields are returning home to find new risks when adjusting to road rules.
A study by military insurer USAA shows that troops are finding it difficult to forget the lessons they've learned on hostile foreign roads - 13 per cent had more at-fault car accidents after they returned home than before they went overseas. Losing control of the vehicle was the most common.
The "Returning Warriors" study also found that enlisted men and women were 22 per cent more likely to cause an accident after returning home compared with 10 per cent for noncommissioned officers and 3.5 per cent for officers. But once soldiers had been Stateside for six months and had time to readjust, the accident rates declined.
Example: Soldier Brad Hammond was stationed in Iraq where his armoured Stryker brigade came under routine risk from roadside mines. "My driving style and the way we were taught was to be purely 100 per cent aggressive," he said. Since being inside a vehicle was so dangerous they tried to "get from point A to point B as quickly as possible with the least amount of casualties as possible. It was get going, be there yesterday." Hammond said he disregarded traffic signals, ignored speed limits and didn't stop when he caused accidents. He retained that driving style when he returned to Denver, Colorado.
"All the things you do to survive in combat can put you at significant risk on US highways."
RULES OF ENGAGEMENT
In combat
* Drives in middle of road to avoid roadside mines.
* Changes direction and lanes unexpectedly, especially at tunnels or underpasses where insurgents might be waiting.
* Always moving. Does not stop for traffic or people. Always has right of way.
* Speeds as fast as the lead vehicle in a convoy.
* Hypervigilant of roadside elements.
At home
* Drives in middle of road, straddling lanes.
* Weaves through traffic. Does not signal turns, merges or lane changes. Avoids or changes lanes at underpasses and tunnels.
* Anxious when stopped. Rolls through traffic lights and stop signs. Does not yield right of way to other vehicles.
* Drives over posted speed limit.
We are the world
* Two lawsuits filed in Los Angeles against the founding family of the religious Trinity Broadcasting Network allege that televangelists Paul and Jan Crouch have spent more than US$50 million ($60 million) of donations on personal expenses, including 13 mansions, his-and-hers private jets, and a US$100,000 mobile home for Jan's dogs. The jets are necessary, the Crouches' lawyer said, because the Crouches receive more death threats than even the President. The millions in cash the Crouches allegedly keep on hand is merely out of obedience to the biblical principle of "owing no man anything", says their lawyer.
*Residents of Embden, Maine, have turned down proposals to rename the town's most notorious street "Katie Road". It's been called "Katie Crotch Road" for many decades, a name that has embarrassed townsfolk and cost ratepayers money because giggling visitors continue to nick the street signs. The local paper says the name's origin might refer to how the road splits in two, forming a "Y" shape. On the other hand, it said, it might refer to an early settler who would sit on her front porch without knickers.
I spy tactics zoom in on hot hatch
News agency Automedia has spied the new Mercedes-Benz A25 AMG hot hatch testing at Germany's Nurburgring. The prototype reveals aggressive styling, with extra vents over regular A-Class models to help cool its larger brakes. AMG alloys and a twin-exhaust. The Audi RS3-rivalling model is expected to have 260kW from a 2-litre turbocharged four-cylinder engine, which powers all four wheels through a dual-clutch transmission. Performance should top both the Audi and the BMW 1 M Coupe, with an estimated 0-100km/h time of 4.5s and an electronically limited top speed of 250km/h. The Mercedes-Benz A-Class will launch this year and the A25 AMG next year.
Wrong car seat = child's lifelong injury
A British woman whose daughter was seriously injured in a car crash has been found negligent and partly responsible for her daughter's injuries - because the girl was riding in an inappropriate child seat. While the accident was judged to be entirely the fault of the other driver, his insurance company insisted part of the responsibility for the girl's injuries fell on her mother. Despite an appropriate car seat with a five-point harness in the vehicle, the 3-year-old was in a booster seat designed for older children. The judge agreed with the insurer and ruled the mother was 25 per cent liable for her child's head, spinal and internal injuries, which the report said will affect her the rest of her life. The Telegraph says the decision means the woman will receive less financial compensation.