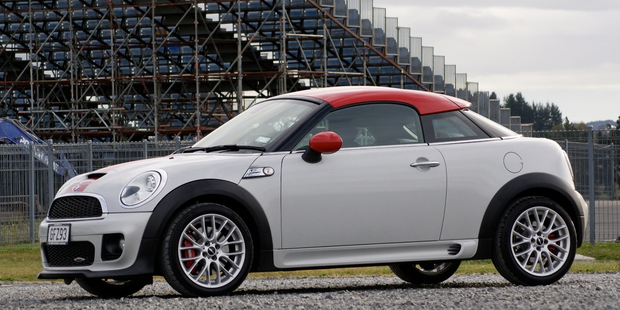 Ironically, what is arguably the most pretentious BMW-Mini ever made is also the closest in spirit to the seat-of-the-pants original Cooper.
You could be forgiven for thinking the new Mini coupe is primarily about style: there's that helmet-inspired roof finished in a slightly ridiculous red (a colour only offered for the flagship John Cooper Works version), slivers of glass that pose as side windows and the reverse-colour stripes applied to our test car. Not to mention the show-off spoiler that lifts automatically out of the bootlid when required (it allegedly provides downforce, too).
Yes, quite a lot of the coupe is about style. But with the uprated 155kW/260Nm 1.6-litre turbo engine and stiffer suspension fitted to the JCW version, the coupe is also incredibly fast (0-100km/h in 6.4 seconds) and very focused.
It's manual-only and the ride will simply be too hard for those who aren't serious about performance driving (refer to the regular, softer Cooper S coupe), but the manic character of the car as tested here is pretty hard to resist once you've had a taste.
The engine comes on strong beyond 2000rpm and in Sport mode the exhaust will pop and crackle on overrun. It's quite naughty.
Here's the clincher: the coupe is noticeably sharper on the road than the hatchback, because the body shape makes it 15 per cent stiffer. And because it does away with the useless rear seats of other Minis, you get a generous 240-litre boot - 80 litres more than the hatchback, complete with cargo net and a load-through port.
Don't count on getting in and out with any semblance of dignity. The low roof and intimate cabin mean you just kind of post yourself into the car when setting off and roll out on to the kerbside when you're done. But that's okay: if dignity was a priority, you probably wouldn't be driving a car that looks like this in the first place.
There's a big price-premium to pay for the coupe. Regardless of the dynamic improvements, the two-seater has an identical powertrain and equipment to the JCW hatchback, yet is $7400 more expensive at $62,200 (or $67,200, with the likes of upgraded audio and navigation). That's hard to swallow.
But it's not hard to take the JCW coupe seriously as an enthusiast machine: it's fast, frantic and as much fun as a sporting Mini should be.
The bottom line:
Not nearly as silly as it looks: Mini coupe carries more sporting credibility on the road and more in its boot than the hatchback. But it does look pretty silly.
Alternatives:
Audi TT $89,900
Mazda MX-5 coupe $55,100
Peugeot RCZ $64,990
Renault Megane RS 250 Cup Trophee $58,990
Volkswagen Golf GTI $58,500