Group posts big loss in Japan but celebrates as sales of CX-5 take off in NZ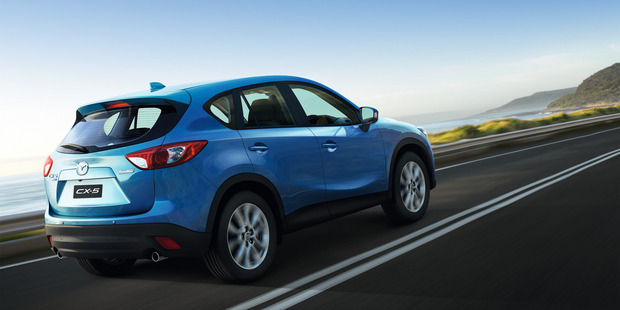 There's the good news and the bad, very bad, news for Mazda this week. Good news? Big sales in New Zealand of the CX-5.
Bad news? Mazda Motor Corporation posted a 108 billion ($1.64 billion) net loss for the Japanese financial year - its worst result in more than a decade.
Honda, Japan's third-largest car-maker, recorded a net profit of 211.4 billion in the past year - down 60.4 per cent on the previous financial year - after losing a large slice of its global production capacity in the Thai floods last year.
Mitsubishi Motors, Japan's number four, increased net profit by 53.2 per cent to 23.9 billion, mainly due to cost cutting.
Japan's third, fourth and fifth-largest carmakers announced their profit results for the year ended March 31 late last week, while number one Toyota and second-ranked Nissan are scheduled to post their results next week.
Mazda's loss represents a big reversal as it made a net profit of 60 billion in the 2011 financial year, according to industry website Go Auto.
Mazda has taken a greater hammering from the strength of the yen as it depends strongly on production in Japan, exporting 77 per cent of domestic production, while its rivals have shifted more offshore.
The formerly Ford-controlled company has been forced to issue US$1.8 billion ($2.2 billion) worth of new shares to private investors and sell some assets.
But Mazda has a rescue plan. It announced this week it would sell more than half of the shares in its subsidiary Toyo Advanced Technologies, which produces machine tools and car components, to Itochu Corporation, a company with which Mazda has worked on development of electric cars.
Mazda said it would also sell four property sites to Sumitomo Mitsui Finance in June and then lease them back, raising vital cash but adding to operating costs.
Under its restructure plan, Mazda expects to rebound quickly this year, forecasting a net profit for the 2013 financial year of 10 billion on the back of a 7.5 per cent increase in global sales.
Meanwhile, Mazda NZ is celebrating the success of the recently launched CX-5.
It took number one spot in the small SUV segment last month and helped the company achieve its second-best April on record with 538 sales.
Andrew Clearwater, managing director Mazda New Zealand, knew they had a winner with the CX-5.
"The feedback from the motoring media who have driven the car has been extremely positive and this is reflected in the sales of the vehicle in April," he said. "The small SUV market has become increasingly competitive ... so to claim the number one position is a fantastic result."
The CX-5, priced from $39,690, is the first of a new generation of vehicles with the full complement of Mazda's breakthrough SKYACTIV Technology with super-clean petrol and diesel engines that minimise fuel consumption and emissions yet maximise performance.