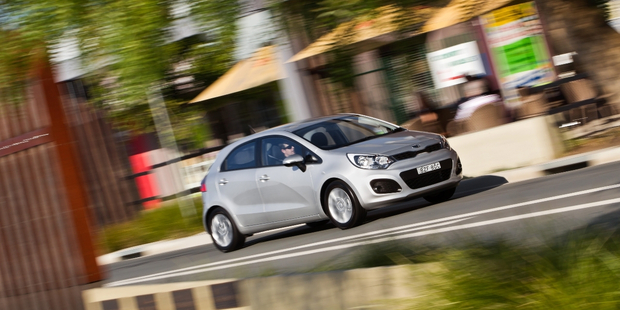 It would be devastatingly easy to make fun of a budget hatchback that's at its most interesting when the engine isn't running. But I do think that the addition of idle-stop-go (ISG) technology to the entry-level LX model has made the Kia Rio a much more engaging supermini.
At the very least it's a talking point, because although stop-go - which cuts the engine when the car is stationary and restarts it automatically when you select first gear - is becoming commonplace on more expensive cars, it still makes the Rio a good proposition in the supermini market.
Especially when you consider that this LX model is a mere $22,990.
Exactly how much fuel ISG saves is a moot point, as Kia does not offer a 1.4-litre manual Rio without the technology in New Zealand. But in Europe you can buy such a vehicle and it achieves 5.5 litres per 100km, which is not a lot worse than the Kiwi ISG model's 5.3 litres, even bearing in mind the cars will not be exactly the same.
However, you can put that stat in the "every little bit helps" department and there's no doubt that ISG allows you to sit at the traffic lights feeling smug about reducing pollution and impressing your passengers should they happen to notice the car's engine shudder quietly to a halt at the crossroads.
The LX ISG also offers a worthy alternative to the standard Rio's rather ordinary four-speed automatic gearbox, which is way behind the technology and number of ratios offered by many of its rivals. There's nothing like direct drive and being responsible for your own cog-choice in an 80kW/137Nm small car. The LX has a six-speed gearbox, but the shift quality is not great. The lever rattles in the gate and there's a bit of drivetrain shunt and the occasional grinding noise (it wasn't me, honest) as you modulate the throttle on the motorway. It's not terrible, just not as polished as the best manual gearboxes.
Overall I like this car. The supermini segment is full of stylish models at the moment but the Kia is surely one of the sharpest-looking of all. The "tiger nose" look succeeds on a cheap and cheerful machine like Rio.
This $22,990 hatchback offers front/side/curtain airbags, Bluetooth, iPod integration, remote audio controls on the steering wheel and seat height adjustment for the driver.
The bottom line:
Idle-stop-go (ISG) makes the Rio a great selling proposition - and an excuse to avoid the four-speed auto model.
Alternatives:
Ford Fiesta LX $23,990
Holden Barina $22,990
Suzuki Swift GL $20,400
Toyota Yaris YR $23,790