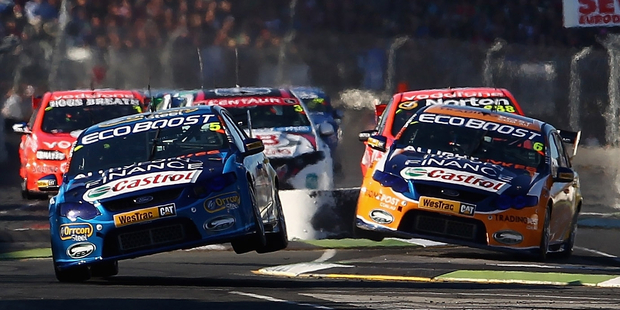 After three days of glorious weather and even better racing, the sun has finally set on V8 racing in the Tron.
After five years of the V8 Supercars making their annual pilgrimage across the ditch, only a deathly silence will be heard in Hamilton next year.
Much ink, angst and finger-pointing has gone on over the last year or so over how the demise of the event came about. It would have made much more sense for the race to remain in Hamilton, be promoted properly, and used to showcase the city to the world. Now that the World Rally Championship no longer visits the area, Hamilton is just, well, Hamilton.
I spoke to a number of folk at the weekend who deal with fiscal things and they all concurred that the event could have been used over the next two years to recoup the money already haemorrhaged on it.
If Hamilton had put its mind to it I'm sure it could have turned the race into a national flagship event.
Every one of the drivers loved the track, the town and the fans that turned up.
The race organisers could not have choreographed Sunday's race better. It was a shame no Kiwi driver was involved at the pointy end but what a show Mark Winterbottom and Jamie Whincup put on.
The Ford and Holden drivers had fans hanging through the fences furiously waving flags in support of their favourite car manufacturer.
The blue and red cars slithered on the teetering edge of grip over the last few laps as Whincup threw everything at Winterbottom.
But it was all to no avail and Winterbottom's Ford flashed over the line centimetres in front of Whincup's Holden. You could feel the roar of the Ford fans through the soles of your feet.
Next year all you'll hear is the sound of an empty fast-food wrapper blowing along Frankton's empty streets.
Who knows where this motorsport magic will reappear? There was a lot of crystal ball-gazing over the weekend while everyone put their cases for either a return to Pukekohe or to New Zealand's newest international race track at Hampton Downs.
"V8 Supercars wants to continue racing in New Zealand and are investigating all possible venues," said series chief executive David Malone.
"It would be a great shame for New Zealand to lose our sport. We have a fantastic fan base and great corporate support in New Zealand, and [we] welcome the opportunity to continue racing here."
Every effort should now be made to keep the one V8 Supercars event in this country.