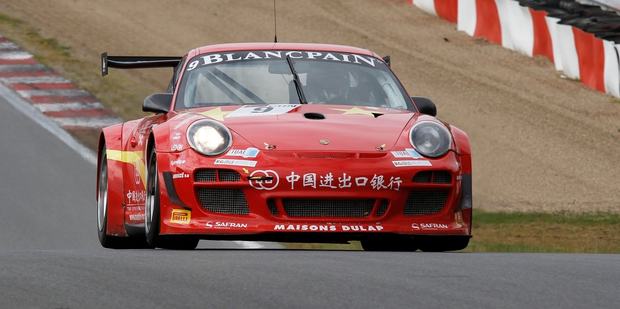 New Zealand race car driver Matt Halliday and his French teammate, Mike Parisy, went two better in race two of the FIA GT1 world championship at Zolder, Belgium. They drove a canny race to win from BMW's Yelmer Buurman and Michael Bartels with the Ferrari of Toni Vilander and Filip Salaquarda third from 13th on the grid.
Halliday's win followed the pair's third place in Saturday's qualifier and has lifted them to second in the drivers' standings.
The race, declared wet by race control, began on a damp track under threatening skies. Tyre choice was a lottery with selections varying throughout the grid.
Parisy held off a late charge from Buurman in the closing stages to win by less than a second.
"What an amazing day and weekend! Pole, third in the qualifying race and winning the championship race today," said Halliday. "I am so happy to win it in a Porsche."
American-based Halliday has made a great start to the weekend at round two of the championship driving his Exim Bank Team China Porsche GT3 Cup R to pole position for the opening 60-minute qualifying race. He and Parisy then came home in third place in difficult conditions.
Halliday claimed pole position after opting to fit slick tyres on a damp but drying track. However he was later penalised after the car clipped the white boundary line exiting the pits on his last timed run.
Parisy started the race from fourth in very wet conditions and after slipping back initially, drove well to hand the car over to Halliday in fourth place. The Kiwi drove aggressively to move up to third then fight off a late challenge to notch up the Mulhner Motorsport outfit's first podium of the year.
Kiwis go Indy
Wade Cunningham is the latest driver to join the list of New Zealand drivers to tackle the Indianapolis 500. The 2003 World Karting and 2005 Firestone Indy Lights Series champion has signed up to drive the No. 41 ECat/ABC Supply Dallara for team owner A.J. Foyt in this year's race, May 27.
Scott Dixon is New Zealand's most successful Indy 500 entrant, having won America's biggest motor race - now in its 96th year - in 2008. Two other Kiwis have taken part; the late Denny Hulme four times between 1967 and 1971, finishing fourth twice and Graham McRae, who won Rookie of The Year in 1973.
Cunningham, 27, made his debut in the IZOD IndyCar series last year with a best finish of seventh in the Kentucky 300. He knows the place like the back of his hand having won three Firestone Indy Lights support races (the Freedom 100) there.
"It's certainly an honour driving for him," said Cunningham. "A.J. has raced everything from front engine roadsters to turbo-charged CART Indy cars at the Speedway, so he's had an amazing career."
Foyt is happy with his choice of driver for the Indy 500.
"I think Wade will do a great job for us at Indy and I think he'll be a big asset to our team," said Foyt. "I knew he was good in the little cars [Indy Lights], but what opened my eyes was his race at Kentucky in the Indy cars."
Though ovals were new to Cunningham when he moved from karts to cars, he is now a firm fan.
"I thoroughly enjoy racing on ovals," he said. "I know a lot of drivers that come from European backgrounds say they don't mind them, but they don't truly love them.
"I enjoy the challenge it provides on a technical level and then there's the physical enjoyment when I'm racing on an oval, because it's so close and you're always thinking. You're not maxed out physically like you are on a road course, so you have more time and more ability to use strategy."
Cunningham's first taste of his new DW12 Dallara is a shakedown run at Texas Motor Speedway in the IZOD IndyCar Series Open Test, on May 7. Then, at Indianapolis, he'll complete the track's Rookie Orientation Programme for Indy cars on May 10.