Hamilton battle could harm the development of Kiwi motorsport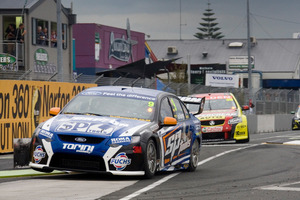 In the past few years we have witnessed a number of New Zealand racing drivers come close to achieving their greatest sporting dreams and none closer than Brendon Hartley, the first Kiwi driver in years to attain a Formula One Superlicense.
While due to various factors he didn't make it to the starting grid of an F1 race, nothing can be taken away from a young man on the cusp of making that next big step.
When people talk about sport being the theatre of drama, it doesn't just relate to folk running around chasing oddly shaped balls, being in or on, the water, chucking various things through the air or legging it around oval tracks.
It also includes motor racing. As a small nation, New Zealand has punched well above its weight in motorsport since the early 1920s, when we sent motorcycle racers to the Isle of Man to race in the Tourist Trophy.
In 2008, another great milestone was reached when Scott Dixon became the first New Zealander to win the Indianapolis 500. It had been a long time between drinks, but in 2009, he was honoured at the Halberg Awards.
Although Dixon missed out on the supreme award, he did beat out Olympic board sailing winner Tom Ashley, Beijing individual pursuit silver medallist Hayden Roulston, US Amateur Golf Champion Danny Lee and 1500m Olympic silver medal winner Nick Willis to win the Sportsman of the Year category.
You people reading this must be wondering what the my point is. Simple - we are good at racing motor vehicles either on the tarmac and the dirt either two-wheeled or four.
Please, before the motorcycle folk start getting their knickers in a twist, I haven't forgotten the rich tapestry of success you guys have had, but of late internationally it's been a bit thin on the ground.
So it scares me that someone who allegedly wants $50,000 in compensation and a trip to Australia could derail the further development of some of our best tin-top drivers.
I'm talking about Paul Smart who wants to shut down the last V8 Supercars event in Hamilton because he doesn't like the noise.
Personally, I'd give my left whatever to watch young Kiwi sportsmen plying their trade at the top table of tin-top racing. It's the last year of V8 Supercars racing in Hamilton so why bother to whinge?
As I've written before, New Zealand is one of those weird places on the planet where the tail still wags the dog.
Prime Minister John Key has said on numerous occasions he wants more international events in this country. Motorsport is the second most watched sport in the world so it doesn't get more international than that.
It's about time small-minded people pulled their heads in.