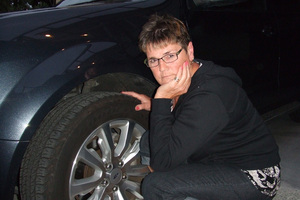 Two men quietly watched a woman park at night in the wrong row of an empty carpark - then clamped her wheels as she walked away.
Manurewa resident Di Crowley has joined a growing criticism of wheel clamping companies, and is one of several complainants telling of plain-clothed enforcement officers sitting by ambiguous spaces to catch out motorists with fines.
Dozens of readers have written to dispute the behaviour of such officers after the Herald last week featured the case of Glen Vickery, who took a clamping company to court and won.
Mr Vickery had parked in front of Country Fried Chicken in Manurewa to buy food - but first went to a neighbouring shop and was clamped.
He was awarded $550 by a disputes tribunal, which ruled that the signs did not make clear how he would have been "unauthorised".
Ms Crowley also had her run-in in Manurewa, while buying a litre of milk at South Mall at night.
The main supermarket carpark was busy, so she parked at the Manurewa train station instead.
"There was only one rough looking car sitting in the area with two males in it," Ms Crowley said.
Across a rail bridge from the supermarket, the carparking area has four rows of parks - three of them for private use and one open to the public.
Ms Crowley said it had been too dark to notice that her park was circumscribed with yellow lines.
It took her less than 15 minutes to buy the milk, and by the time she returned her wheels had been clamped by the two men.
She said one of the men had told her they would unclamp her car "for a special price of $180 tonight".
They were not keeping the parks clear - just collecting money.
Others have similarly told of clamping enforcers lurking around the city. Lomana Vuna parked outside a Subway on Great South Rd and noticed a group of men sitting outside the fast-food joint - "not eating, I must say".
She did not walk straight into the shop so they clamped her car.
"I was about to put up a fight but I looked behind them and they came in two vehicles with men in both vehicles - I swear on my family and my son - they were very intimidating so me and my sister gave in and paid up."