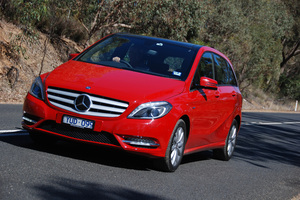 Mercedes' B-Class hasn't sold well here to date but, as budgets tighten and eco-friendly mantras resonate as far as Remuera and Lowry Bay this is the right time to introduce an improved family-friendly Euro.
What's new
A casual glance suggests little has changed, but look again.
Mercedes has abandoned the sandwich floor to deliver more conventional lines. The roof drops 47mm, the body is 86mm longer and a smidge wider for a more planted, and sleeker look. A shorter wheelbase hasn't cramped cabin space, with rear legroom up 12mm, and though the boot is now 50 litres smaller, it's still generous at 488 litres.
All-new engines with stop-start are matched to a seven-speed dual clutch auto developed and built in-house that replaces the outgoing CVT.
All have more power and better fuel economy than the outgoing variants, the B180's 90kW/200Nm1.6-litre turbo direct injection motor drinking 1.5l/100km less at 6.1l/100km.
The B200 gets the same engine tuned to 115kW and 250Nm; while the 1.8-litre 100kW/300Nm turbo-diesel now boasts a super-frugal 4.7l/100km fuel figure.
Stuff such as stability control, nine airbags and collision protection assist are standard and safety features filched from pricier models are on the options list, among them blind spot and lane departure warnings.
Several option packs each deliver a suite of goodies at favourable prices. Mercedes expects the Vision pack, with sunroof, bi-Xenon headlights and LED running lights for $3150, to be most popular.
The company line
Australian-based managing director Horst von Sanden says, "We are getting now really serious in the compact segment, which is increasingly important worldwide." Mercedes expects the segment to lift from 19 to 34 million a year worldwide by the end of the decade, and will build five models on this platform to satisfy the increased demand. The B-Class will be joined by the next A-class early next year, then a compact SUV and a four-door coupe. Expect a hybrid powertrain in due course.
What we say
This B-Class has no obvious direct competitors. It may be less sleek yet is more family-friendly than the BMW 1 Series, Audi A3, Mini or Alfa Giulietta in the same bracket; more like a hatch with hints of mini-MPV about it. That will make it very easy for the average family to live with, even if it lacks the edginess some Euro buyers seek.
On the road
Our Australian launch drive was strong on highway, short on corners though there were enough lumps and bumps to confirm a family-friendly ride from the MacPherson strut front and four-link rear suspension. These engines all deliver effortless everyday performance alongside relatively frugal thirst.
Why you'll buy one
A practical family hatch with Euro pretensions, the B-class looks and feels like a Mercedes, yet starts at under 50 grand.
Why you won't
It looks too sensible; and even with the design flourishes delivered by those sculptural air vents it lacks character.