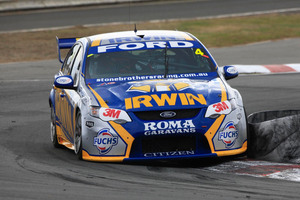 One of the leading V8 Supercars outfits - incidentally run by two New Zealanders - Stone Brothers Racing knows talent when they see it.
Ross and Jimmy Stone have a reputation for spotting Marcos Ambrose, who won the championship in 2002 and 2004, and young guns like Shane van Gisbergen.
For 2012 they snapped up Lee Holdsworth after the Victorian had cut his teeth at Garry Rogers Motorsport. He scored his maiden win in 2007 at Oran Park and continued his good form with further podium finishes.
He finished seventh in the championship in 2010 and replaced Alex Davison in the No 4 IRWIN Tools Falcon as part of the SBR team in 2012. Holdsworth is a fan of the Hamilton street circuit and is looking forward to next weekend's ITM400.
He knows he's in for a battle, as defending round champion van Gisbergen is back on home soil and wants to keep the Hamilton title, and it's the last time the event will be held in the Waikato city.
"I've really liked coming to Hamilton to race and they've put together a brilliant world-class street circuit," said Holdsworth. "I finished second to Shane last year in race two and have been on the podium every time we've raced there and I'm hoping we can do the same again this year.
"The Stone Brothers' cars are always quick over there [Hamilton] and I think Shane will definitely be one of the drivers to beat in Hamilton this year. Having won there last year he's going to be hard to beat."
Holdsworth has made a great start to the 2012 season with his new team and his transition from a Holden to a Ford has so far been pretty seamless. The cars have different balance and grip dynamics, and while Holdsworth is keen to do well in his new team, he knows to take it easy early on.
However, Holdsworth is fifth in the championship after two rounds, 45 points behind teammate van Gisbergen, and is pleasantly surprised to be where he is.
He likes the street circuit format and has a good track record at this type of event. He is looking forward to showing the way home to the rest of the field over the weekend.
"To be honest I love coming to Hamilton and it's such a shame it's going to be our last year there. I hope there's going to be a huge crowd over the weekend.
"It's a really challenging track and you can push it to the limit. There's plenty of grip and you push it to within millimetres from the wall. It's one of those tracks where you've got to hold your breath and go as hard as you can to get the most out of the car," said Holdsworth.
The consensus among the drivers is Hamilton's kerbs are probably the most difficult things about the track, so the drivers need to have a car that can handle them. They're damn hard, especially through the first chicane (turn four) at the back.
Drivers, and in particular team owners, don't want to ride them because there's a high likelihood they'll damage the car. The secret, apparently, is to get through them smoothly and quickly to make up time and distance on the car in front.
"I had heaps of confidence in what the car could do around the track with my previous team and hopefully I'll get the same feeling with the Irwin car this year," said Holdsworth.
"I'm still working on gaining complete confidence in the new car and it's coming to me a lot quicker now. Things didn't really click at Clipsal [opening round in Adelaide] but things are really coming together now and especially at the last round in Tasmania."
The Hamilton track is a difficult place to get to grips with in the dry and if it's wet like last year it's anyone's game. Holdsworth is showing good pace in the dry as he gets more used to the car and is no slouch in the wet either. He just could be the one to watch next weekend.