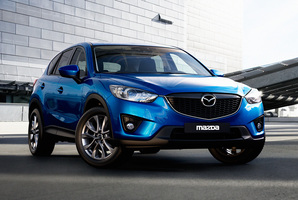 "Please use the CX-5 as a car." That's the advice of Hideki Tanaka, the programme manager responsible for bringing New Zealand's newest crossover SUV from concept to fruition.
Despite being primarily an all-wheel-drive (a couple of front-wheel-drive versions are available) it's not really an off-roader, says Tanaka, but "muddy roads, snow, bad weather are no problem".
The advice is no surprise. Mazda is further distancing itself from truck-based SUVs with the CX-5. With ground clearance of 150mm it's much more like a car than a traditional SUV which typically have clearance of 220-250mm.
Tanaka was in New Zealand for the vehicle's local launch.
After 28 years with Mazda, the man in the bright yellow driving shoes is no stranger to managing new-vehicle projects, having earlier been involved with products as diverse as the MX-5 sports car, the Mazda6 family and CX-9 SUV.
And he's at odds with Mazda New Zealand management on one important point. The company reckons about a third of its CX-5 sales will be diesel.
But Tanaka reckons they're being too conservative. The diesel, he says, is so good that sales could easily exceed the prediction.
After a long drive of both versions through the Wairarapa, Driven thinks he might be right.
The SkyActiv-D diesel is a newly-developed unit that makes good use of the latest technology. It's an ideal powerplant for the sleek and relatively compact SUV.
Coupled to a six speed automatic that can be used as a manual, the 2.2 litre engine produces 129kW at 4500rpm and 420Nm of torque at 2000rpm.
And the engine continues to provide heaps of torque until well after 5000rpm. The engine is full of clever technology that Mazda has introduced under its SkyActiv umbrella.
It's a compelling choice in the CX-5's refined chassis and body that is said to have strong MX-5 influences.
The diesel engine comes in a pair of models, the mid-range GSX listing at $46,990 and the top Limited, at $55,990. The entry CX-5, a front wheel drive GLX, costs $39,690.
Aided by auto stop-start technology, the diesel uses 5.7 litres of fuel per 100km overall in the official test cycle compared to 6.9 litres for the all-wheel-drive 2.0 litre petrol. CO2 emissions of 149g/km are almost identical to the petrol engine's.
Plenty riding on CX-5
Mazda New Zealand has a lot riding on the success of CX-5, says managing director Andrew Clearwater.
"This vehicle provides an opportunity to reignite the brand at a time that the market has continued to strengthen but at the same time has become more fragmented as some distributors take advantage of a strong New Zealand dollar."
He said last year "would not go down as a great year" for Mazda and was one the company "would like to forget".
The firm had to contend with the natural disasters in Japan and Thailand, along with the adverse effect of the strength of the yen.
The year ahead seems rosier for Mazda, Clearwater said, with a target to sell 120 CX-5s a month and good acceptance of the controversially styled BT-50 ute. He said that Fulton Hogan, a long-term customer, has just selected the ute after a full competitor review.
Four firsts
Mazda's claiming four firsts for its CX-5 crossover: The first medium SUV with blind-spot monitoring, lane departure warning, automatic high-beam control, and standard tyre pressure monitoring. It's also the first Mazda with a full suite of the corporate SkyActiv technology and the first to feature the company's new Kodo design theme. Mazda's claiming class-leading fuel economy from petrol and diesel engines and class-leading torque from the diesel.