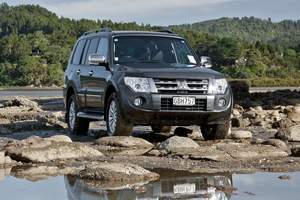 Let's say you're a personnel manager. A guy comes in looking for a job. It's hard to tell his age, but there are signs that he's no spring chicken. Still, he's smartly dressed and looks the part. You suspect his designer sneakers must have cost at least $300. His CV looks good and he's not asking for a lot of money.
Would you hire him?
Let's hold that question for a minute and look at the upgraded Mitsubishi Pajero. It's not a big upgrade, not even a facelift, really; more of a freshen-up.
Different bumper, grille and fog lamps, a reversing camera, auto dimming rearview mirror, Mitsi's new brake override system and dash illumination that changes from boring blue to a daring red and white.
The top Exceed version we've been driving also gets different 18-inch alloys, extra exterior bling and a "premium" alarm system.
The stuff's added not to fix shortcomings, but to add showroom life to a vehicle that's been around in its present shape - although upgraded along the way - since 1999. True, it was renovated to "new generation" status in 2006 but the basic shape and design are last-century as, to be fair, are some rivals.
But like our job applicant, it seems a good package despite its age; the styling has lasted well and it could be worth taking the chance.
Especially given that the Exceed lists at $87,590, which is not high these days for a rock-crawlin' 4WD wagon with all the stuff. A top Toyota Prado now lists at more than $100,000, a loaded Land Rover Discovery at more than $120,000.
You have in the Exceed seven seats, leather everywhere, DVD entertainment, a top sound system, gizmos galore. If you want to spend that much on a loaded and genuine SUV, the Pajero Exceed offers value.
But rather like the job applicant, who soon falls asleep at his desk from the exertion of trying to learn word processing, it becomes clear that in terms of refinement the Pajero Exceed is now an old vehicle in overpriced sneakers and an expensive shirt.
The 3.2 litre 150kW/448Nm turbodiesel is rough and noisy compared with the latest SUV engines. The dashboard looks dated and the shifter for the INVECS-II five-speed auto appears to be a leftover from the 1990s. The power-adjustable leather driver's seat is not that comfortable and provides little support. Ride borders on being harsh, the handling only average, even for an SUV. Some modern utes are better.
That's sad, I like Pajeros. It was one of the first Japanese 4WDs to be more recreational than hard-core, sort of an affordable Range Rover, and its competition pedigree is unarguable: it "owned" the Dakar rally.
Off-road, it's capable. You just have to watch the ground clearances and let the electronic traction control do the rest.
Like the HR manager, I might be tempted to take a punt on an Exceed; I just worry that it might end up a disappointment.
The bottom line:
Value's undeniable, but Mitsubishi might be better renting the Pajero a garage at a nice rest home.