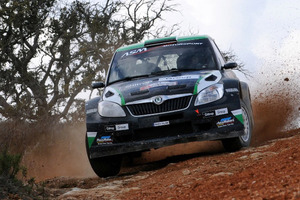 The mechanical gods smiled on Kiwi rally driver Hayden Paddon at the latest round of the World Rally Championships in Portugal.
The Production World Rally champion was in second place, nine minutes behind the S2000 race leader Yazeed al Rajhi, until the Saudi driver's Ford broke a cross-member, gifting the race to Paddon and co-driver John Kennard.
The Kiwi crew looked to be out of contention on Friday when an electrical fault grounded their S2000 Skoda Fabia to a halt. Restarting on Saturday, Paddon won all of the day's six stages to move into third in class.
Overnight leader Rajhi retired on the first long stage on the morning of the last day's racing. Meanwhile, Paddon had made up the 54 seconds to second place, so not only did they jump into second place, but also into the lead. On passing Rajhi, Paddon decided to take it easy to get the car to the finish in difficult conditions.
Paddon and Kennard won 14 of the 18 stages in SWRC and posted times competitive with Sebastian Ogier.
"We wanted to come here to win, but we didn't win it like we wanted to," said Paddon after taking his first win in the SWRC category.
"We're happy though and I've always said to finish first, first you have to finish. There's a lot more to come from the car and from me. We're looking forward to Brother Rally New Zealand for the next round in June."
The win in Portugal - Paddon's second event in his 2012 SWRC campaign - gives him 37 points, just six points behind SWRC championship leader Craig Breen.
Shane's a Tasmania devil
New Zealand V8 Supercar driver Shane van Gisbergen finished second behind defending champion Jamie Whincup in the second race of the weekend at Symmons Plains in Tasmania after finishing fourth in the sprint race on Saturday.
The 22-year-old SP Tools Ford driver is now looking towards defending his ITM400 title in Hamilton on April 20-22, and is now in fourth place in the championship, just 39 points behind third placed Mark Winterbottom.
"We're pretty stoked, today we were pretty good. It's a good lift for the boys," said van Gisbergen. "I think we are definitely getting there. We didn't quite have the pace in Adelaide but we made some good steps at Albert Park.
"Here, again, we are almost there but we didn't quite have the speed to carry on to win the race. We need to improve things just a little bit more.
"It was a pretty good race, we made a good jump from yesterday as we weren't really in the same league as the FPR guys."
Fellow New Zealander Fabian Coulthard (Lockwood Racing Holden) drove well to move through the packed field from 17th on the grid to 11th and retain his spot in the top-10 in the championship.
Whincup overcame an early race spin to win race four of the championship and move back into second place behind Will Davison on the ladder, now just 18 points adrift.
Dixon's second place
Aussie IndyCar driver Will Power got the better of Scott Dixon at round two of the Izod IndyCar series at Barber Motorsport Park, Alabama to keep the Kiwi in second place.
Power managed to gain the lead after a botched last pit stop by Dixon's team and although the New Zealander launched an attack on the Aussie after the final restart, Power held on to eventually pull a three second gap by the end of the race. Dixon has now finished second in the last three races at Barber -twice to Power and once to Castroneves).
Combined with a second place at St. Petersburg a week earlier, Dixon is off to his best start since his 2008 IZOD IndyCar Series season.
"It was tough on the re-start when all Will [Power] had to do was drive it in deeper and run me off the track," said Dixon."It's kind of tough when it's the last re-start. It might have been different if it was earlier in the race.
"It was crazy for us to be in that situation to start with. We had a quick car and I tried to push Will. But when you're behind someone you loose a lot of downforce. I burnt the rear tyres of towards the end as well. It was a tough day and we got caught up a couple of times on the track as well.
"All in all, Team Target did a fantastic job with Honda. Hopefully in the next few races we might be looking at the top spot on the podium."'
Offroaders head to Northland
The Offroad Racing Championship field heads to Northland's Mangawhai at Easter when 60 teams will do battle.
Buoyed by a huge turnout for the first round, the second round features both stadium-style short-course racing and a full endurance race, offering North Island drivers the toughest weekend of racing in the championship until the national final in late October.
Event organiser - and championship joint leader - Nick Leahy says there is much to draw teams north over the Easter break.
Drivers looking for something different and drivers chasing points in the championship will be looking north at Easter, Leahy said.
Leahy competes in the popular and close-fought Challenger VW class. He says he has designed a course that will please drivers and excite the crowds.
Both short course and enduro tracks are plotted over rolling farmland with fast sections, jumps and tight and tricky sections.
"It's the first time the national championship has ventured into Northland in more than a decade," Leahy said.
Scrutineering starts at the track on Good Friday at 3pm and racing starts the following day at 11am and ends at about 3pm.
Sunday's enduro starts with time trials at 9.30am and racing at 11am.
- with Mark Baker