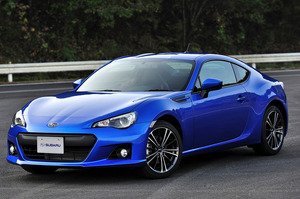 Subaru has given the biggest hint yet that it is developing a hot STi version of its BRZ sports car - and there's a roadster on the way too.
Subaru global marketing manager Atoshi Atake said at a presentation of the rear-wheel drive coupe in Europe that the carmaker had received many requests about a faster version.
"Let me say this - we will certainly satisfy our customers. We are already working on a faster version."
The new range-topping model is expected to take inspiration from the STi concept revealed at last year's Los Angeles motor show.
Under the bonnet will be a more powerful version of the 147kW 2-litre flat-four cylinder boxer engine from the standard car. It is likely to produce around 190kW.
"We can definitely develop the intake system," Atake said. "There is certainly room for improvement there."
In addition, there is likely to be a freer-flowing exhaust and modifications to the engine's variable valve control system, along with an even higher rev limit of around 7500rpm. The 147kW engine revs to 7000rpm and delivers 205Nm at 6000rpm.
Subaru says that it will not turbocharge the engine as there is no space at the front of the engine bay for an intercooler.
"Plus, we want to keep turbocharging separate. It is for models like the WRX STi," said Atake.
"The same goes for four-wheel-drive. We could not make the BRZ four-wheel-drive even if we wanted to."
He also said that supercharging had been dismissed because it would make the BRZ too heavy on fuel.
As well as more power, the BRZ STi is set to weigh even less than the 1250kg standard car, thanks to racing bucket seats and potentially a carbonfibre roof and bonnet, which will further help to lower the car's already low centre of gravity.
Other tweaks will include a dramatic body kit, stiffened and lowered suspension, lighter but larger 18-inch alloy wheels and upgraded brakes.
Asked if it was possible to make a convertible version of the BRZ, Atake said: "Yes, that is certainly possible. We already have pillarless doors - you can imagine how removing the roof would make the car look."
Subaru and Toyota have a global sales target of 100,000 models a year for the BRZ and its sister car, the GT 86. The The GT 86 goes on sale in New Zealand in August and the BRZ in December. Sales have already begun in Japan where Subaru has sold 3551 models in the last two months - four times what it expected.