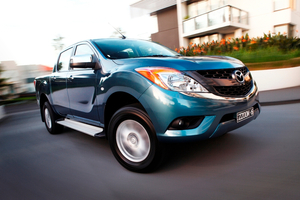 The bottom line: Flagship BT-50 Limited ute does its best to take on SUVs in terms of performance, handling, equipment and quality. Even more car-like than sister Ford Ranger and better value, too.
Funny how so many stories about the Mazda BT-50 and/or Ford Ranger immediately turn to a comparison between the two - mostly focusing unfavourably on the Mazda's styling.
I guess that's inevitable when the pair are twins under the skin and yet that skin is so very different (extremely different in the Mazda's case).
For the record, I agree that Mazda has gone a step too far in trying to give the BT-50 car-like looks, but I don't think it's the end of the light-commercial world as the maker knows it, either.
Both companies struggle bravely to differentiate their products in terms of mission statements. Mazda reckons its BT-50 is tailored more towards an SUV-type application, hence the car-like looks and interior design. It also says the BT-50's suspension is set up more with on-road driving in mind.
It's all a veneer of softness over a hard-core off-road vehicle - this is still a heavy-duty workhorse, with ladder-chassis construction and dual-range transmission with a locking rear differential as standard. That's a good thing.
Still, with a family-SUV attitude in mind, this should be the one to test: the top-line BT-50 Limited, complete with posh alloys, leather upholstery, dual-zone climate-control air conditioning, automatic headlights and reversing radar.
It comes exclusively with the 147kW/470Nm 3.2-litre five-pot powerplant and six-speed automatic transmission.
Luxury? Kind of. Both Ranger and BT-50 have redefined the pickup truck market in terms of quality, dynamics and safety, but they still have noisy diesel engines and a bouncy ride when the tray is unladen.
A pleasure to drive? Absolutely. The five-pot engine has a staggering amount of torque on tap and even if it doesn't ride like a car, the BT-50 certainly steers like one. This truck turns into corners with uncanny precision and tracks beautifully from entry to exit, provided you're careful with the throttle.
The traction/stability control is amazing. It's called into action often on wet roads and loose surfaces thanks to all that pulling power, but it's so sophisticated and unobtrusive that forward progress is seldom interrupted, even when that orange warning light is solid.
It's all really remarkable. While I have a natural scepticism about Mazda's claim that the BT-50's suspension is set up in a slightly different way to the Ranger, I do think that it's a little sharper and more settled in high-speed corners than the Ford. Which is also deeply impressive.
The interior is exactly what you'd expect from a Mazda passenger car - and very unusual for a truck, with curvaceous shapes and a cockpit-like configuration. It works, although it's a little odd having an intimate cabin environment like this when you're so high off the ground.
Remember, BT-50/Ranger and the Volkswagen Amarok belong to a new supersized class of one-tonne pickups. The Mazda is a mighty 5.4 metres long and, at just over 1.8 metres in height, could well be taller than you. Get used to it: the whole class is going this way.
Physical size, comprehensive equipment levels and its flagship status explain the $61,895 price of the BT-50 Limited. It's got a bit more kit than the Ranger XLT (the flagship Ranger Wildtrak is still to come) and outpowers Amarok.
I'm going to risk being ostracised from my colleagues and say that as a road vehicle I prefer the Mazda to its Ford sibling. I look a little odd myself so the styling doesn't bother me, I reckon the BT-50 is just a bit sharper around the corners and I prefer the interior.
It also makes much more sense money-wise: the BT-50 Limited is $1250 more expensive than the Ranger XLT, but you get leather and three years free servicing.
Alternatives:
Ford Ranger XLT: $60,690
Holden Colorado LT: $54,600
Mitsubishi Triton GLS: $50,890
Toyota Hilux SR5: $61,890
Volkswagen Amarok Highline twin-turbo: $61,500