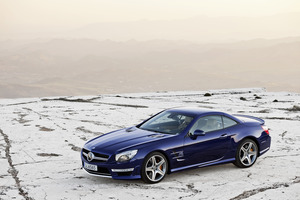 Mercedes-Benz has revealed the SL65 AMG, a range-topping twin-turbocharged V12 version of its all-new roadster with 463kW and 1000Nm of torque.
The newest variant of the SL arrives shortly after Mercedes-Benz pulled the wraps off the SL63 AMG that boasts a maximum of 414kW from its 5.5-litre V8.
There's a slight gap in performance between the two, with the SL63 completing the 0-100km/h sprint in 4.3 seconds and the SL65 managing it in 4 seconds. Measured to 200km/h the gap becomes larger, with the cars posting times of 12.9 seconds and 11.8 seconds respectively.
For the first time, Mercedes-Benz has managed to fit the AMG 7G-Tronic seven-speed automatic gearbox to its V12 engine which, with its wide spread of gears and start/stop function, helps to increase fuel economy by 17 per cent over its predecessor. The SL65 AMG claims fuel consumption of 11.5 litres/100km, or 24.4mpg.
Standard kit includes AMG sports suspension, speed-sensitive steering, a three-stage ESP stability system and a limited slip differential.
So how do you tell an SL65 AMG from an SL63 AMG? The V12 model debuts what Mercedes-Benz is calling AMG's new "brand face", which includes the twin-blade radiator grille as the main feature. The LED light surrounds, bonnet fins and sides of the wings are all finished in chrome, unlike on the SL63.
The SL65 AMG will be unveiled at next month's New York motor show though no word on when it will make it to New Zealand.