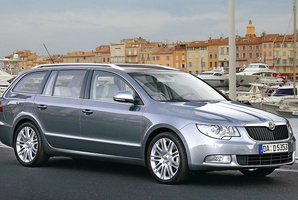 The dilemma:
We keep hearing that the large car is dying so George in Blockhouse Bay writes, slightly tongue-in-cheek: "Is it still okay to want a Holden Sportwagon?"
Yes it is, George. Holden's modern take on the large stationwagon can pack a load, can be used for lots of different things and, so long as you don't drive around in it all day on your own in second gear, the PC Police will likely turn a blind eye.
George and wife Ellie are keen on a recent and reasonably basic Sportwagon, so that would make it the Omega, which is in good supply on the used market.
They're interested in alternatives, of which there are many. Some mid-size wagons offer much the same capacity as a Sportwagon. Today we'll suggest the Aussie, a Czech and a Swede.
The budget:
About $35,000
The shortlist
Holden Commodore Omega
Holden quenched some of the 3.6 V6's thirst for petrol with its SIDI technology (that stands for Spark Ignition Direct Injection) and powertrain upgrades. It's rated at just over nine litres per 100km, overall. Beyond that, there's a lot more to like about the wagon which, though no longer a new design, carries its styling well. The Omega is well equipped and there's not a lot of reason to search out higher-grade models. However, with the way the used market works it's possible to get a high-line Sportwagon for the same price as an Omega, just by shopping around. Low mileage 2008-2009 models fall well within their budget.
From $25,000
Skoda Superb
Here's a Sportwagon rival if ever there was one, with four- or six-cylinder power, European ambience, many clever features and even a 4x4 version. Trouble is, they're scarce on the used market and a very recent one will probably break their budget. Skoda has established a good reputation.
From about $35,000
Volvo V70
A good looker from Scandinavia, the problem with the front-wheel-drive V70 may be finding a recent-enough one. Early and much cheaper V70s abound. Typical possibilities include a 2007 2.4-litre petrol S model for $30,000 and less than 40,000km, and a 2008 3.2 with similar mileage for $5000 more. The wagon is super comfortable and great for long distances.
From around $30,000
Driven recommends
Last year we had another dilemma that included a Sportwagon and the Superb. Then, as now, we recommended the Aussie over the Euro. That's taking nothing away from the Skoda, which we regard as, well ... Superb. We're giving Sportwagon the nod because because it's well within budget and the Commodore service and parts infrastructure is immense.