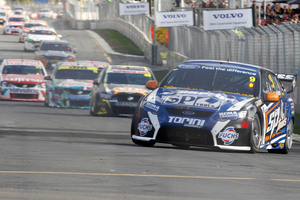 Auckland has received a proposal to host the V8 Supercars a month before Hamilton cuts its ties with the event that has cost ratepayers about $40 million.
The city council's tourism and events division yesterday said it had received a proposal from V8 Supercars Australia in the past week and was carrying out due diligence and a cost-benefit analysis.
Mayor Len Brown is giving qualified backing for spending ratepayers' money on the event, and supports V8 Supercars' preference for Pukekohe Raceway.
"I am extremely cautious around costs, particularly given the experience of Hamilton.
"No decision will be made until we are absolutely satisfied that costs, benefits and risks are not only known, but are proven to a very high degree of certainty to be reliable and affordable," Mr Brown said.
The loss-making V8 street race series in Hamilton has been cited during this week's shake-up of local government by the Government as the kind of risky commercial ventures that councils should not undertake.
Not only did the event cost ratepayers about $40 million, but an Audit New Zealand review found that former Hamilton city chief executive Michael Redman spent millions of dollars without authorisation and kept councillors in the dark over the race.
After the report was released last October, Mr Redman resigned from a subsequent job as chief executive of Auckland Tourism, Events and Economic Development (ATEED), which is considering the proposal to hold the event in Auckland.
A spokesman for V8 Supercars would not confirm the proposal, but said the organisation was determined to continue racing in New Zealand to satisfy local fans.
"Productive discussions have been held with the New Zealand Government and key stakeholders regarding potential new venues in New Zealand," he said. "It is imperative these discussions take place now and decisions are made in order to establish a fully operational venue in time for 2013."
ATEED destination manager Rachael Dacy said work had begun on due diligence and a cost-benefit analysis. The work would take several months and the matter would go to the Auckland Council for a final decision.
Ms Dacy would not say how long V8 Supercars wanted to stage the event in Auckland or how much it could cost ratepayers.
The final ITM 400 in Hamilton will be on the street circuit from April 20-22. The supercars raced at Pukekohe from 2001 to 2008.
SUPERCAR CIRCUIT
* 2001-2008: Supercars race at Pukekohe Raceway.
* 2009-2013: $40 million cost of hosting Supercars in Hamilton.
* Present: Auckland Council weighs up costs and risks of returning Supercars to Pukekohe.