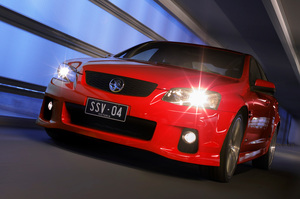 Rumours are rife in the US that Chevrolet's secret new Nascar could be based on a rebadged version of the Australian-made Holden Commodore or Caprice.
Chevrolet ignited the rumours when it announced its 2013 challenger would be an all-new model and nameplate, a production version of which will also be revealed within 12 months.
The company said the car will be "based on a new nameplate to the brand's line-up", not Chevrolet's current Nascar, the Impala, or existing models such as the Malibu or Cruze.
Released in 2005, Chevrolet's outgoing Impala is based on a 20-year-old GM platform but it has claimed five manufacturers' titles and 70 wins in the Nascar Sprint Cup Series since 2007, when it replaced the large Monte Carlo coupe.
So, unless Chevrolet has a secret new model, or it plans simply to rename the Impala's replacement, it looks as if Holden's Commodore will be in line for a renewed US export programme and the basis of Chev's next Nascar.
"We are keeping the wraps on the new car for now and will continue to prepare for next season by testing camouflaged vehicles," said Chevrolet Performance Vehicles and Motorsports vice-president Jim Campbell.
Holden currently exports its long-wheelbase Caprice to the US, where Chevrolet sells them to police departments but not the public.
Exports of Holden's last Commodore-based US model, the Pontiac G8, ended when GM axed the brand in 2009 as part of GM's bankruptcy.
While the Commodore may star in Nascar, a new export deal to the US appears highly unlikely, given the current state of manufacturing in Australia.
Last month, Holden announced it was cutting more than 100 casual and temporary workers from its South Australian assembly plant, a decision it said was forced primarily by the tough economy created by the high Australian dollar.