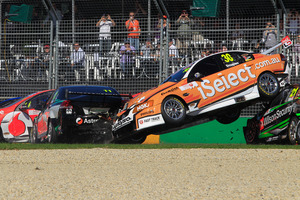 Veteran V8 Supercar racer Russell Ingall has blasted some of his rivals as "dumb drivers" following a huge pile-up which wrecked several cars including his own at the Australian Grand Prix on Saturday.
Ingall was caught up in a spectacular five-car concertina which caused hundreds of thousands of dollars' damage at the non-championship V8 round at Albert Park.
Defending champion Jamie Whincup was spun around on the opening lap of the race by a nudge from Holden driver James Courtney.
That sparked a queue of crashing cars as Ingall followed Holden drivers Karl Reindler, David Wall and Taz Douglas ploughing into Whincup and each other.
Douglas' Commodore was left wedged on its side between cars as Albert Park became a V8 junkyard, and a ruptured fuel cell from one of the vehicles leaked ethanol all over the track.
Holden driver Alex Premat was also caught up on the crash's periphery. All drivers were unhurt.
While Whincup was able to return to the race with only bent panels, the cars of Ingall, Reindler, Wall, Douglas and Premat were all substantially damaged with a repair bill likely to stretch to hundreds of thousands of dollars.
Ingall, whose Supercheap Auto Racing commodore now faces substantial repairs through no fault of his own, didn't hold back after the race.
"Why risk machinery and cost your team a lot of money for no reason?" Ingall said of a non-championship round with no series points up for grabs.
"There are a few guys there that shouldn't be there and you know something is going to happen.
"It's just dumb but then again there's a lot of dumb drivers in the category. There doesn't seem to be a middle scale. You've got some very talented drivers then you've got some really dumb drivers."
Whincup said his car would be checked thoroughly overnight by Team Vodafone's mechanics ahead of the weekend's fourth and final V8 race on Sunday after copping a heavy impact in the crash.
"The grand prix's all about developing your car and staying out of trouble and unfortunately I couldn't do that today," Whincup said.
"But I've got a great crew, I'm sure they'll get me out there and we can push again tomorrow."
After a lengthy delay to mop up the spilled fuel and wreckage strewn all over the circuit, the race was reduced from 20 laps to just a timed 10 minutes plus one lap.
Ford driver Mark Winterbottom eventually won the race - making it three out of three at Albert Park after his two wins on Friday.
Holden driver Garth Tander was second, with Winterbottom's Ford Performance Racing teammate Will Davison third.

- AAP