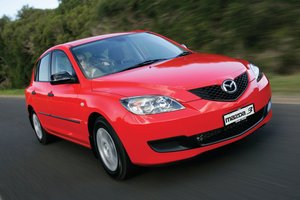 The dilemma:
Walter likes sedans and Volkswagens, which is why a 2003 Bora sedan, for sale with a $9000 asking price, caught his eye. He drives a 2006 Commodore but it's too big for his needs and constantly drains his petrol budget.
"The Bora is like the Jetta and the Jetta is just a Golf with a boot," he says. "And the Golf is a good car."
Well, that more or less sums it up, Walter. You've already done Buyers' Guide's job - well, almost.
"I do prefer a sedan but would look at hatches, and I'd sooner have a European model."
The Bora is, indeed, a close relative of the Jetta, which has had so many aliases it might take Interpol to sort them all out.
The market is awash with vehicles that could suit Walter. We've taken a UN approach with our trio, offering one from Japan, one from the Czech Republic and one from Germany.

The budget: About $15,000
The shortlist:
Mazda3
Walter has said he'd sooner have a Euro, but here's a Japanese car that thinks it's a European. Maybe that's no coincidence, as the car shares its platform with the Volvo S40 and Ford Focus. Its styling, inside and out, is European. Known on used-import yards as the Axela, the car was available as a hatch or sedan and here's the good news: decent examples in the 2006-2007 range are right in Walter's budget sweet spot.
From $13,000
Skoda Octavia
Walter is old enough to remember when Skoda was synonymous with automotive rubbish, but dispel such notions. Skoda joined Volkswagen in 2000. Today, its cars are reliable, offer great value and hold their price well. Because of that, Octavia sedans in Walter's budget range are scarce, but he might get a petrol model with reasonable mileage from about 2006. It's an impressive car.
From $15,000
Volkswagen Bora
Not until we started looking into it did we realise how many Boras are on our roads and for sale. Most are in the 2002-2003 range, overwhelmingly with 2.0-litre engines and automatic, although a few have the technically interesting V5 and there's a few V6s. The V6s are often fitted with Volkswagen's take on all-wheel-drive, 4Motion. Our choice would be a 2.0.
From $8000
Driven recommends:
We wouldn't go off and sulk if Walter went for a Bora or a Jetta, which seems to command a premium over equivalent Boras. However, we reckon he can do better with a Mazda3 or Skoda Octavia. But suitable Octavias are scarce. There's a much better supply of good Mazda3/Axelas and that's why it gets our nod.