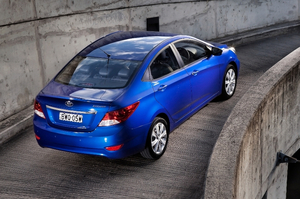 For all its stylish good looks, there's a really big problem with the latest Hyundai Accent: its lacklustre powertrain. The 1.6-litre petrol four-speed automatic transmission provide adequate performance, but nothing to get excited about.
There's a solution to that problem: the 1.6-litre diesel option, which boasts almost as much power as the petrol (just 3kW in it) and a whopping 104Nm extra torque, with 260Nm delivered at just 1900rpm.
Transmission? The same number of ratios, sadly, which does temper the excitement level. But fixing one problem does take the emphasis away from the other - you find yourself wanting those extra ratios less when you have so much torque to play with.
The engine is not particularly refined, but I don't mind that. Quite happy for a diesel to sound like a diesel, especially when it can chirp Korean rubber at the traffic lights and leave larger cars in the cloud of smoke our test car was emitting. Imagine how well it'll go when it gets a tune-up.
I can't talk too much about the car's handling, for the same reason our test vehicle is not the one pictured here: it was delivered (with apologies from Hyundai New Zealand) on pathetic 14-inch wheels and high-profile tyres, being an early evaluation unit delivered before the Accent was launched here. The showroom model you'll drive away in rides on 16-inch rims with 195/50 tyres.
Accent remains an expensive proposition, at $36,490 for a diesel sedan. That's a lot for a small car, although it's not actually that small. Accent sits in a slightly awkward spot, the four-door being quite a bit larger than the model it's supposed to sit underneath, the soon-to-be-replaced i30. The Accent is 125mm longer than an i30 hatchback and boasts a cavernous 465-litre boot.
Diesel is a no-brainer if you've any interest in enjoying the drive. It's also a rare thing: there are few small sedans with diesel engines on the market.
However, I fear it doesn't make much sense in money terms: dowdy though it may be, the petrol/auto combination is still quite thrifty at 6.4 litres per 100km. The diesel is better still, but by less than a litre per 100km.
The premium for diesel power is very high: $4500 over the equivalent petrol Accent sedan. Crunch those numbers and with Road User Charges (RUC) in the frame, you'll have to do over 600,000km to recoup the price.
The Accent diesel can be enjoyable to drive. But it's not that enjoyable.
The bottom line:
Grunty diesel power addresses the Accent's powertrain problems, but highlights a whole new issue: economics. Fuel economy is too close to the petrol; the price premium too large for it to make sense.
Alternatives:
Ford Focus Trend hatch diesel $41,490
Holden Cruze CD diesel $36,900
Honda Civic hybrid $43,500
Hyundai i30 CRDi hatch $36,990