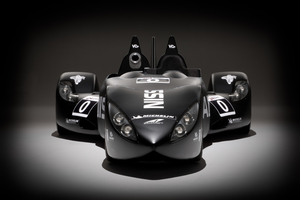 Nissan plans on rewriting the endurance racing rulebook with a radical machine that would look more at home in a Batman movie than tearing down the Mulsanne straight.
In a wild departure from traditional sportscar design, the driver sits nearly on top of the rear axle, and stares down a very long and narrow body to two skinny front tyres, made for the car by Michelin.
The DeltaWing's powerplant also defies convention - a hyper-efficient turbocharged 1.6 engine, which could potentially be the biggest revolution in the sport since Audi's diesel debut, is rear-mounted, giving the car a strong weight bias towards the back.
Weight is the key to making this diminutive engine competitive, so while the direct injection petrol four-cylinder is significantly smaller than the rest of the grid, the car is also half the weight and has around half the aerodynamic drag.
DeltaWing won't be classified when it runs at the Le Mans 24 Hours race in June, with Nissan - along with collaborators including British designer Ben Bowlby, American Don Panoz and Dan Gurney's well-respected All-American Racers - looking to showcase its engine and materials technologies.
While it won't be picking up points, the Le Mans 24 Hours organisers, the Automobile Club de l'Ouest have invited the team to race from 'Garage 56' - a pitlane spot reserved for experimental cars. It will carry the race number '0' as it doesn't conform to existing championship rules.
The DIG-t mill (Direct Injection Gasoline Turbocharged) produces around 225kW, which combined with the near-unbelievable 475kg dry weight will - according to Nissan - put the DeltaWing's lap times somewhere between the LMP1 and LMP2 cars at LeMans.
"As motor racing rulebooks have become tighter over time, racing cars look more and more similar and the technology used has had less and less relevance to road car development," Nissan executive VP Andy Palmer. "Nissan DeltaWing aims to change that and we were an obvious choice to become part of the project.
It "embodies a vast number of highly-innovative ideas that we can learn from," he said.
"At the same time, our engineering resources and commitment to fuel efficiency leadership via our PureDrive strategy will help develop DeltaWing into a testbed of innovation for Nissan".
Ben Bowlby - whose concept and design kicked the project off - appears to most excited about sourcing an engine to suit the application.
"Nissan has provided us with our first choice engine," he said. "It's a spectacular piece. We've got the engine of our dreams: it's the right weight, has the right power and it's phenomenally efficient."