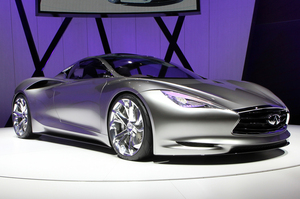 Nissan's next generation of electric cars promises "handling like on rails" and more flexible interior layouts, says the carmaker's senior vice-president and chief creative officer, Shiro Nakamura.
"For designers and engineers, it is a very good time to do something completely different to the last 30 or 40 years," he said at the Geneva motor show, where he unveiled Infiniti's Emerg-E hybrid sports coupe.
Nakamura said Nissan was "really seriously testing" in-wheel electric motors for the new-generation of electric-powered cars that will follow the Leaf, which he said was built on an existing internal combustion engine car platform.
He said the next generation of EVs would be designed specifically for battery-electric propulsion, presenting opportunities for major changes to packaging through space-saving technologies such as in-wheel electric motors.
In-wheel motors use the wheel hub as part of the motor, driving the wheel directly without any mechanical losses, although with the downside of increased unsprung weight.
"Not all cars can go in-wheel motor, but we are really seriously testing," Nakamura said.
"The in-wheel motor feels much more direct. And also a very good point is that you can control torque right and left, which is almost like four-wheel steering.
"If you turn, it is totally different - no understeer and very, very precise handling."
Nakamura said the system provided "handling like on rails", which was tempting Nissan to apply it to electric sportscars, as well as small city cars.
He said the benefit to designers of such electric motor systems was to remove the motor from within the body for greater interior design flexibility.
"We have much more opportunity," he said. "It is not necessary to stick to traditional layout. We are exploring many designs."
Nissan has already explored several different layouts in EV concept cars shown at various motor shows over the past few years.
Some of these include the motorcycle-inspired Land Glider, three-seat Novu, five-seat Townpod and Esflow sportscar.
Nakamura said Nissan had two current-generation EVs still in the pipeline, both using Leaf technology. One of these is expected to be luxury division Infiniti's Leaf-based sedan - a Camry-sized all-electric passenger car due to be unveiled in concept form at next month's New York motor show.
Nakamura said cost was the main reason Nissan had chosen to use existing platforms for the first round of EVs such as Leaf.
"For us, affordability of the EV is a high priority," he said. "So, some people say Leaf looks rather like a petrol car. Well, yes, that's because it is based on one. We just had to find a place for the battery."
Nakamura predicted that another major change to next-generation cars - especially those at the cheaper end of the market - would be the deletion of many electronic systems, replaced by the driver's smartphone. Instead of in-built audio and sat-nav systems, the smartphone would drive those functions - "even the speedo".
"All you will need is a screen in front," he said.
Nakamura said this would provide cost savings to carmakers and help to future-proof cars.