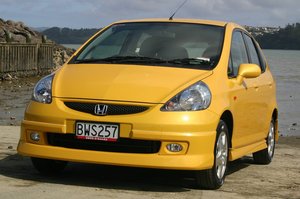 The dillemma: It's all Honda this week as Joan gets keen on an odd little Capa and we tell her to look elsewhere.
Here's the backstory: Joan has come from a Honda-owning background, her parents had one of the first Civics back in the 70s and there have been Hondas in the family ever since.
Something of a starving artist who has a need for a cheapish smallish car that's able to haul lots of stuff around, Joan has noticed several Honda Capas around and thinks one may be ideal.
The Capa, its name derived from the word "capacity", was another of those mini urban people-movers for which the Japanese have a great fondness. Built on a Logo chassis, it uses a 1.5-litre engine and either a four-speed conventional automatic or a CVT and was built from 1998 to 2002.
However, the Capa's looking old now and we're suggesting Joan looks at its replacement, the Mobilio, or forsakes both in favour of the roomy but compact Jazz.
The budget: About $10,000
The shortlist:
Honda Capa
There aren't many Capas around. Those available have done about 150,000km or more. Be wary of ones with the early-generation CVT transmission - seek expert advice about its condition. Best look at Capa's successor, the Mobilio and Mobilio Spike, which will still be well within budget.
From $4000
Honda Mobilio
Ah, this is more like it; the Mobilio and the "upmarket" Mobilio Spike are widely available and good under-100,000km examples come in the $8000-$10,000 range. The 1.5-litre seven-seater was built from 2001-2008 and had sliding doors. The Mobilio was a spacious and versatile wee thing, with quirky but appealing looks. Its new generation of CVT is an improvement over the Capa's.
From $9000
Honda Jazz
The Jazz, or Fit as it's known, came along in 2001 and is regarded as one of Honda's best designs. Key to its roominess is locating the fuel tank under the front seat.
With used imports in the mix, the car is available in a wide range of specifications, some with CVTs, some manual (which is probably the one to go for), and engines running from 1.3 to 1.5 litres.
There's even an all-wheel-drive version. Joan should be able to snare a good 2003-2004 model with 60,000-80,000km for less than $10,000.
From $9000
Driven Recommends:
The Mobilio's a useful runabout, but Driven reckons a Jazz would be better because parts are widely available. The Jazz/Fit still carries more stuff than you'd ever believe for a vehicle of its size and is great to drive. The Capa? Only if you're on a really tight budget.