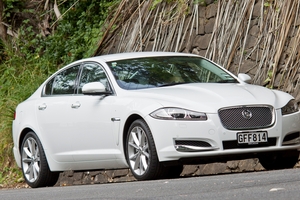 How freakishly symbolic is this? On Saturday, an old filling falls out; on Monday I collect a Jaguar XF 2.2 and drive directly to the dentist. The Jaguar is finished in gleaming-white enamel and it reminds me of ... a giant tooth.
The cost of dentistry being what it is, there's a temptation to make comparisons: "I could put a down payment on the Jag for the cost of the filling", but that would be stretching the point, even though it's the cheapest new Jaguar money can buy in New Zealand. Anyway, the dental repair is money well-spent; I didn't even feel the needle, let alone the rest of the job.
But given the cost of replacing a filling that lasted only 30 years, I'm wondering whether my dentist would be in the market for a tooth-like Jaguar? After deducting running costs, there's probably enough left over from a week's worth of fillings, extractions, whitenings and root canals to get into the car I'm driving; the one I've named Doctor Tooth.
The Doctor is the entry point to the XF range and, indeed, the entire Jaguar lineup whose prices taper off around the quarter-million mark these days.
The XF 2.2 is only $90,000, well within the means of even a dental practice in the outer suburbs, you'd think.
Outraged dentists should not write in and complain at this point because, as during the re-filling procedure, my tongue is close to cheek.
Instead of the growling supercharged V8 you may be hoping for, the XF 2.2 has a four-cylinder diesel. While a four-cylinder Jag might be the dental world's equivalent of sending someone out with a plastic partial plate, don't dismiss this car.
Based on a unit shared with Land Rover, Range Rover, Ford, Peugeot
and Citroen, it puts out 140kW of power, a useful 450Nm of torque at 2000rpm and drives the back wheels via an eight-speed automatic gearbox with a Sports mode and race car steering-wheel paddles.
Far from being a hapless entry model, Doctor Tooth really zips along, overtakes effortlessly, and rides and handles very well. All this while helping save the planet with a ridiculous overall fuel consumption of 5.4 litres per 100km for a car of its size and CO2 emissions of 149g/km, both figures better than many "economy" cars.
Not only that, the XF 2.2 doesn't even look like an entry model, with leather power-adjustable seats, sat-nav and all sorts of other good stuff. But don't feel you have to stop there.
Have you noticed that these days it's difficult to go to the dentist, get a hole filled and just go away? Perhaps taking a leaf from the auto industry, dentists provide options that they push with varying degrees of assertiveness. I mean to find out whether a prerequisite to dentistry is now a background in telephone sales.
It takes 14 pages of the XF brochure to cover its extras and, like a dentist's, none is particularly cheap. Chrome power vents and various wood veneers each cost about the same as two fillings, but some fancy 20-inch alloys that will make Doctor Tooth really shine require a $4500 investment.
I returned Doctor Tooth with a wide smile; I enjoyed the car and its cost-effective luxury. If I bought one, nobody would ever know it was the stripper version when I picked up young Tarquin from outside her school. I'd have it in white, too; the colour brings out its gorgeous lines. Might have to accessorise my teeth to the car with a good whitening, though.
The bottom line:
It may be an entry-level Jaguar, but it'll put a smile on many faces.
Alternatives:
BMW 520d SE $112,400
Audi A6 3.0 TDI $118,700
Mercedes-Benz E-class 250 CDi $106,900