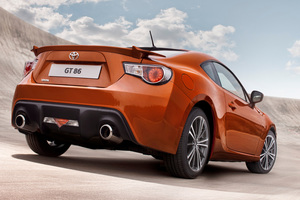 It looks like Toyota has confirmed what everyone has been thinking - that the two-door 86 rear-drive sports coupe car will also be produced as a convertible.
"The GT 86 was designed from the outset so that we can build it as a convertible," Toyota 86 chief engineer Tetsuya Tada said, but gave no date for the soft-top launch.
The Toyota 86 - to be called the GT 86 in Europe and Scion FR-S in North America - has been developed side by side with the Subaru BRZ, the collaboration the result of Toyota's 17 per cent share in Subaru parent Fuji Heavy Industries.
Analysts are saying that if Toyota goes open-top, Subaru won't be far behind with its near-identical BRZ.
A topless version of both models appeared at the Tokyo motor show last year when a Subaru product planning chief responsible for the BRZ said: "Everyone who sees this coupe wants a convertible. If demand is enough they can have it."
A frameless door design - necessary for a convertible - is already in place on the coupe, providing at least one clue that the designers and engineers were thinking about a roofless version from the outset.
The Toyota 86 will arrive in New Zealand in August, with the Subaru version arriving about the same time or a little later.
The 86 and BRZ share a normally aspirated 2-litre twin-cam flat-four that develops 147kW of power at 7000rpm and 205Nm of torque at 6600rpm.
The engine is a collaboration between Toyota and Subaru, with Toyota supplying the D-4S dual-injection system that employs both direct and port injection.
Subaru engineers have said that turbocharging the engine will be difficult because of its low-slung packaging towards the rear of the engine bay, but Tada said Toyota has been evaluating supercharged versions of the boxer engine.
The BRZ's dimensions are identical to the GT 86, at 4240mm long, 1775mm wide and 1285mm high, with all main metal panels - including the lightweight aluminium bonnet - a match.
The BRZ apparently has a slightly different suspension set-up to the Toyota 86, suggesting the Subaru version is slightly sportier.
Both coupes have a 53:47 front-to-rear weight distribution and a very low centre of gravity - they were benchmarked against the Porsche Cayman to major in fun, agile handling and driver involvement.
The top-spec models are expected to get 17-inch alloy wheels, torque-sensing limited-slip differential, electronic stability control, seven airbags, cruise control, dual-zone climate-control air-conditioning and a six-speaker CD sound system.
Other standard equipment includes keyless entry and start, high-intensity discharge headlights, front foglights, LED daytime-running lights, electrically adjustable and heated folding door mirrors, heated front seats and leather upholstery.