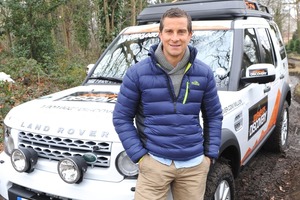 He's tackled treacherous terrain, eaten live bugs galore and survived every manner of weather but now Man vs Wild star Bear Grylls will meet his toughest opponent - the Land Rover Discovery.
To mark the one millionth 'Disco to be built at Jaguar Land Rover's Solihull manufacturing plant in the UK, Grylls, along with explorer Sir Ranulph Fiennes, have embarked on a 'Journey of Discovery.'
The expedition started last week at Disco's birthplace in Birmingham and will end at the Beijing Motor Show on April 23 - covering 13 countries and 12,865km in 50 days.
The pair are joined by Ray Mears, Monty Halls and polar explorer Ben Saunders, but the main stars are the three Land Rover Discovery cars especially fitted out for the long trip.
The challenge follows in the tyre tracks of the 'First Overland Expedition' in 1955, in which a team in Series 1 Land Rovers set out from Birmingham to Beijing.
That expedition had to divert to Singapore, but in the spirit of the original challenge, the Discovery will be crossing many of Land Rover's major markets including the UK, Russia and China.
The expedition will also be used by the group to raise a million pounds ($1.9 million) for the International Federation of Red Cross and Red Crescent Societies (IFRC).
Grylls owns a 1974 Series 3, and explained why he chose Land Rovers for behind the scenes work on Man vs Wild: "Land Rovers are synonymous with adventure - in tough moments you want something that's rugged and reliable, and that's exactly what they are."
Sir Ranulph has used Land Rovers extensively for his expeditions and the vehicles featured in his famous "seven marathons in seven days on seven continents" Land Rover 7x7x7 Challenge.
"The only thing that used to go wrong [during expeditions] was broken half-shafts. We would call ahead and get a new one parachuted in, and off we went again. You could use a coffee pot for a piston head - back then even a fool could fix one," said Sir Ranulph.
The production of the one millionth Disco comes 23 years after Land Rover introduced its original Discovery 1 model.07-03-2012 05:30:00
The success of the Discovery alongside other Land Rover models has helped to create a positive momentum at the company's Solihull operations, where about 6000 people now work following a recruitment drive that boosted the workforce by 20 per cent to support its expansion plans.