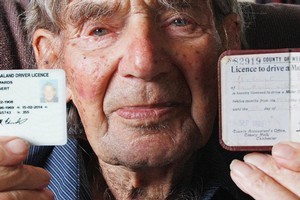 Far North resident Bob Edwards had three reasons to celebrate recently, turning 104 on February 15, renewing his driving licence a week earlier, and staking claim to being the oldest licensed driver in the country.
But for Bob, it was no big deal.
Birthdays don't mean much at his age, he says.
He has been driving since he was 15, recalling his first car - a French model De Dion Bouton - as having "no steering wheel, only a bar".
When asked what he needed to get his licence renewed he replied, "just a good doctor's certificate".
The fiercely independent 104-year-old believes having his licence is "very important. How else would I get my groceries?"
Bob was born in Hastings, England, in 1908, starting his working life aged just 10, cleaning the concrete steps of a local boarding house.
"Everybody worked in those days," he recalls.
He left England at 19 after spotting a Salvation Army poster proclaiming: "The colonies need you".
"Somebody said to me 'Canada's very cold, Australia's too hot but New Zealand is just right' so I put myself down for New Zealand."
He recalls his first impressions of a "beautiful country, no cars and very few people. Auckland had no traffic lights, only trams. You could walk across the road and nothing would hit you.
"There were no roads up here back then. I had to go two miles by horse to the local store. The only things that came North were the steamers."
He married his first wife and they moved to her family farm in Matakana. There was a lot of kauri gum digging happening at the time. This was delivered to Auckland via the steamer boats.
The road to Auckland was being built at the time and Bob said it could take between four to five hours to get from Warkworth to Auckland, depending on the weather.
In 1945, he gained his skipper's ticket and began work driving the service boat between Sandspit and Kawau Island. During this time he parted from his first wife and married his second.
"She didn't mind the travel to Kawau Island".
The advent of tourists to Kawau Island saw this job increase to the point of running two services a day. In 1960 the family left the island to seek a better education for their two children and Bob began a caretaker job at Taipa campgrounds, where they stayed for three years. He then became caretaker on Moturoa Island.
"There was nothing on this island, only a few cattle. Fish, eat oysters, pick scallops, that's all we had to do."
In 1965 he began work as the first ferry master on the 10-car Kohu Ra.
"The baby boom kept me busy at nights" with passengers needing delivery across the waters to Rawene hospital.
"One was born on the boat. They wanted to name it after me but I think it was a girl," he said.
Bob finally retired at the ripe old age of 80 and "from then on things got very slow. All I did was work in my gardens".
He and his wife spent the next few years living in properties in Kaitaia, before building a house on his daughter's land in Ngataki six years ago.
"The land was all tea-tree and wattle, I cleared it all, hoed the stumps out and settled in here."
Bob said he has enjoyed his life immensely so far.
"I don't feel any age at all. It's just annoying that I can't do what I want to do."
Bob broke his hip falling outside his home two years ago. Before that he had had no health complaints. He has his own home gym where he exercises for at least an hour every morning, after rising at 6.30am.
"I've never been one to watch TV all day. And I have so much to do outside ..."
And the secret to his longevity?
"I think being on the sea, and now up here in the North, no air pollution. I think it might make quite a difference. I always look forward to everything I do, and I think that has a lot to do with it. If things don't quite turn out, I don't worry about it. That could be a secret to my long life."