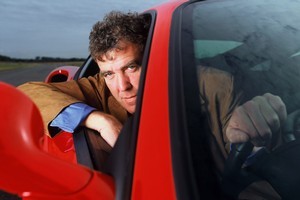 It was supposed to be a novelty gadget, only for use as a light-hearted Christmas present. But the satnav kit voiced by Jeremy Clarkson managed to generate a row that went to the very top of the BBC.
The Corporation's director general Mark Thompson was eventually forced to block production of the device on the grounds that it presented potential "conflicts of interest'.
He ruled that the Top Gear presenter shouldn't give his voice to a satnav when the show regularly offers consumer advice on such products. But the judgment came only after 50,000 versions of the TomTom GO LIVE Top Gear Edition Sat Nav had been made - in time to hit the shops last Christmas.
And, to add to the sense of farce, the gadget is still on sale.
Details of the extraordinary soul-searching carried out at the BBC were revealed yesterday in a report into the affair by the Corporation's governing body.
The BBC Trust concluded that its commercial arm - BBC Worldwide - had indeed broken guidelines by lending the Top Gear label, and the programme's most familiar voice, to the product. The investigation by the trust ruled that the original decision to do the deal with TomTom had failed to recognise potential "conflicts of interests'.
BBC officials viewed the satnav as a "novelty digital item' rather than something central to editorial remit.
Incredibly, the plan, which left Jeremy Clarkson "in potential breach of his contract', was discovered by BBC bosses only when they read about it in a newspaper on September 4 last year.
Mr Thompson pulled the plug on future sales within four weeks. It was decided the deal with TomTom ran against policy which prevents the show's presenters endorsing motoring products.
The products were still sold, but BBC Worldwide did not make any profit - with proceeds going to Children In Need.
BBC Worldwide last night said that Mr Clarkson had not received any money for his part in making the product.
Sources close to the presenter claimed that Mr Clarkson had not pushed to take part in the satnav deal and it was not his idea.
- DAILY MAIL