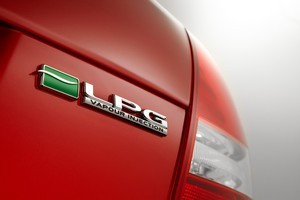 While car companies eye up hybrid technology, diesel, electric engines and biofuels as an alternative to petrol, Holden New Zealand has just announced it will be opting for LPG for two of its larger vehicles.
The Commodore and Caprice range will gain a dedicated LPG-only model - a first for the company - after feedback from customers who said they wanted a larger car with a small car's environmental credentials and fuel savings, preferring "dough over go".
Holden chose a vapour-style LPG (liquefied petroleum gas) injection system over Ford-style liquid injection technology after a two-year development project.
It found the vapour system better met its goals, particularly in fuel economy and CO2 emissions. The 3.6-litre V6 LPG Commodore sedan produces just 189g of CO2 a kilometre - the best of any locally built large car and better than many four-cylinder medium cars - but has 30kW less power than its 210kW petrol equivalent.
"Holden continues to work hard to provide a range of great motoring options for our astute Kiwi customers and the dedicated LPG Commodore range supports that as we take another step in the evolution of VE Commodore," said Holden New Zealand managing director Jeff Murray.
"The LPG Commodore brings outstanding fuel consumption and CO2 emissions along with excellent driving characteristics and there is a lot our customers can enjoy in this range from practicality and comfort in a large car, without the large petrol costs."
Though the new LPG Commodore is greener than Ford's equivalent new LPG-powered Falcon EcoLPi, which emits 199g/km of CO2 in its base 4.0-litre XT guise, the big Ford churns out 198kW of power and 409Nm of torque - 18kW and 89Nm more respectively than the 180kw/320Nm gas-propelled Holden.
The new Holden LPG system, largely engineered in-house, replaces the dual-fuel petrol-LPG system introduced nearly 20 years ago.
Apart from slightly more power and torque (5kW/2Nm) than the previous LPG unit, the new LPG Commodore gets 13 per cent greater fuel economy, at 11.8 litres per 100km on the combined cycle.
As well, the system is said to produce so few toxic emissions that it can exceed the most stringent exhaust standards yet conceived in Europe.
In another Holden first, the LPG range uses lighter aluminium gas tanks, supplied by New Zealand company Propane Performance Industries.
The two cylinders sit side by side under the boot, with a combined capacity of 84 litres.
Holden says the positioning of the tanks was governed by their size, which required the engineers to delete the usual spare tyre in the boot floor.
The big advantage of the under-floor tank mounting is that it can be applied to all local body styles, including Sportwagon and Ute, without the intrusive tank in the cargo area.
The switch to LPG required numerous changes to the engine and related systems, including new high-compression (12.0:1) pistons to make full use of the high (100-110 RON) fuel rating, hardened valves and valve seats to cope with the abrasive fuel, and a completely new exhaust system with twin underfloor mufflers and a single tailpipe.
The injectors and fuel rails were designed specifically for the engine, as was a new-design fuel vapouriser that uses electricity to warm the fuel to ensure quick cold-starts, before switching to warmth from engine coolant.
Holden says one of the biggest factors in achieving its fuel economy and emissions targets was the electronic management system, which was locally calibrated.