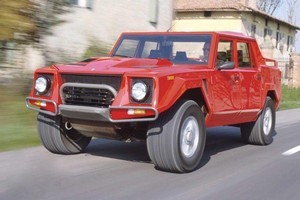 Italian supercar maker Lamborghini will re-enter the four-wheel-drive market with a three-door SUV, expected to be unveiled at the Beijing motor show in April.
It's the spiritual successor to the LM002 of the 1980s and will be called the MLC.
The Lamborghini SUV is the company's second attempt at a third model line. Reports say the SUV project has gone beyond being a simple concept car, and is almost certainly bound for production in 2015.
It will be based on the platform that will also be used on the Audi Q7, Porsche Cayenne, VW Touareg and Bentley SUV.
However, Lamborghini has been given free reign to modify the platform to bring the car's kerb weight down and t that end engineers have been developing carbon-fibre versions of key cabin structures.
As a result, Lamborghini is keen to keep the final figure below 2000kg.
Unlike the Aventador and Gallardo, the new SUV will be front-engined. Power is likely to come from a 435kW version of the 5.2-litre V10 from the Gallardo, which will produce more torque from low revs.
The SUV Lamborghini will also likely to be offered as its first hybrid model. The layout will be able to accommodate an electric motor and lithium-ion battery pack.
Sketches of the SUV concept point to a high-rise version of the Estoque, the luxury saloon Lamborghini, seen at the 2008 Paris motor show.
Lamborghini will introduce the SUV concept to the developing Chinese market first, and the expectation is that it will join the Aventador and next-generation Gallardo in 2015 or 2016.