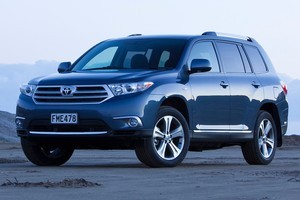 Toyota New Zealand's third-generation Highlander SUV will be built in the United States instead of Japan.
The move Stateside to Toyota's plant in Princeton, Indiana, was not unexpected as the Japanese giant seeks to ease the pressure on its profit margins from the strong yen.
Part of its new policy is to build its vehicles where most of them are sold and to reduce exports from Japan because of a soaring yen, which has undermined profitability.
Japan's carmakers have been hit hard by the yen's continued strength against the US dollar and other currencies. It means Toyota repatriates fewer yen on profits from overseas sales.
"One of the reasons for the shift to the US was to mitigate pressure on the yen - the currency has been very exposed," said Steve Prangnell, Toyota NZ's general manager sales and dealer operations. The US factory will build the Highlander for right-hand-drive markets like New Zealand and Australia (where it is badged the Kluger) and left-hook countries like Russia.
The move from Japan production - where the Highlander is not available - pretty much ends any chance of it being built alongside the Camry and Aurion at Toyota Australia's plant near Melbourne.
Toyota Australia has for years wanted to add a third model to its line-up, but lost out on a US$400 million ($483 million) investment in the Indiana plant by its parent company, and the addition of 400 jobs to cater for export markets like New Zealand.
The Indiana plant employs about 4800 workers.
"The company will invest about US$400 million to support global demand for the Highlander, which will no longer be built in Japan by late 2013," said Toyota.
"Toyota builds Highlander in China for that market only. Annual Highlander production volume [at Indiana] is expected to increase by about 50,000 units."
Toyota said it would boost annual production at Princeton from 280,000 to about 330,000 units in the second half of 2013, when it would begin production of the Highlander Hybrid and export versions of the V6 petrol Highlander to New Zealand, Australia, Russia and other markets.
Toyota sold about 1.3 million examples of the Highlander (introduced in 2001) and Highlander Hybrid (introduced in 2005) in North America between 2001 and 2011, including more than 100,000 petrol models and about 5000 hybrids last year.
The Highlander comes from Kyushu in Japan. It offers the choice of two drivetrains - 2WD and 4WD - and two grades. It runs a 3.5-litre V6 petrol engine, delivering 201kW and 337Nm through a five-speed automatic transmission with manual mode.
Toyota claims town-and-around fuel consumption of 11 litres/100km for the 2WD and 11.6 litres/100km for the 4WD.
The next-generation Highlander is expected to go on sale in New Zealand towards the end of next year.