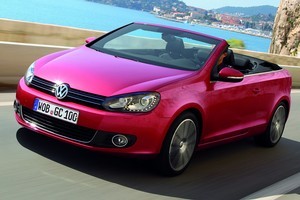 Happy Takeaways is one of Auckland's most famous - and busiest - Chinese fast-food outlets, and it takes a lot to be remembered by the six-plus staff, most of whom have worked there since it opened 35 years ago.
My dad, a customer of nearly 30 years, is only known as "No MSG", and during my decade of ordering special fried rice, sweet-and-sour chicken and wontons for my kids, I've only seen the back of the heads of the "wok stars" working behind the counter.
But I now know what makes the staff of Happy, well, happy, and that's cars. Before Christmas I was testing the BMW 1-Series and parked outside the Westmere takeaways just as the owner was opening up.
Then last week, as I stood in front of the counter ready to place an order, the owner looked at me, looked out on the street and said: "Where's your 1 Series?"
Startled that he knew who I was, I replied: "I'm a motoring writer for Driven, and I was testing that BMW. Now I'm testing a VW Golf Cabrio."
Suddenly I was aware of silence as the cooking stopped and six pairs of eyes stared at me. Then at the soft-top parked outside. Then back at me.
"Um, the 1 Series was Driven's Car of the Year," I told the Happy audience, with a couple of wok stars nodding in agreement before returning to their cooking (and, I suspect, adding a couple of extra wontons to my order).
It's fair enough that the staff should check out the Golf - it's swept-back windscreen and lowered roofline gives it the streamlined look that it needs to differentiate between itself and the other VW convertible, the Eos.
While the hard-top 2-litre Eos is priced at $60,250, the soft-top Golf costs from $43,000 and gets a 1.4-litre 90kW, 200Nm TSI petrol engine paired with a 7-speed automatic Direct Shift Gearbox (DSG).
But the heavy cabrio struggles initially in those lower gears - and you won't be the first off the line at motorway on-ramp lights. But once on the motorway, the car hits seventh gear with ease and pushes along nicely.
Golf's Z-folding soft top opens in a startling 9 seconds and goes back up in 11 seconds - and you operate it while driving up to 30km/h. The roof sits behind the passenger seat, rather than folding in the boot like the Eos, giving the car 250 litres of boot space, even with the top down.
That's a lot of room - but the entry to the boot is narrow, giving you a height restriction when loading it up.
The cabrio is loaded with goodies - automatic LED headlights, Bluetooth, front and rear parking sensors - and is fully equipped with safety gear: rollover bars that deploy within milliseconds, airbags, ESP, ABS and a reinforced windscreen frame.
The interior keeps it simple and sporty, and while the front passengers have plenty of legroom, there's only space for two kids or small adults in the rear seat, a downside pointed out by an admirer (of the car).
As I park outside my local Briscoes, the former Golf cabrio owner accosts me for a quick nosy at the car. He shakes his head as he looks at the small back seat. "I moved to a Volvo C70 [convertible] so there was more room for my 16-year-old daughter and her friends," he says.
Personally, I would have stuck with the Golf. It's sexier and really, as a mum of two teens, my worst nightmare is a carload of 16-year-old girls.