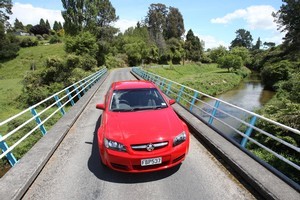 Despite petrol prices pushing at least $2.20 per litre in most parts of the country, Turners Auctions' latest sales figures show record demand for large-engine cars.
A report on second-hand car sales from the country's largest vehicle auctioneer reveals sales of vehicles with engines over 2.0L made up almost 48 per cent of total vehicle sales in the fourth quarter of 2011. Sales increased by 4 per cent compared with the same period in 2010, and were up 8 per cent from the 2009 low.
Further evidence of this demand is the increase in the average price for larger cars, up 7 per cent in the last year to an average of $11,185 per car - the highest price recorded since 2008.
"The data tells us people are venturing into the larger car market again. There also seems to be a seasonal trend emerging with sales of larger cars increasing in the lead up to summer," says Graham Roberts, chief executive of Turners Auctions.
"We put this down to the convenience a larger vehicle provides, with more space and power for summer pursuits and family road trips,"
In spite of fuel prices, Turners credit price stability for the resurgence of demand for larger vehicles.
According to AA PetrolWatch, from October 2011 petrol and diesel prices remained unchanged for seven weeks - the longest period without change since April 2009.
"People are desensitised to the price of fuel these days. It seems the slow increase in the price of petrol has allowed consumers to accept the price," says Roberts.
In line with the increase in the sales of larger vehicles, the Toyota Corolla has been knocked from top spot for the first time in two years, replaced by the Holden Commodore. Four out of the five most popular models are large-engine cars, including the Ford Falcon and Mondeo and Subaru Legacy.
However, Turners predict growing unrest in the Middle East could reverse the trend.
"As long as prices remain steady we expect people to continue to buy large-engine cars but our statistics show that dramatic petrol price increases decrease the value and the number of large vehicles sold," says Roberts.