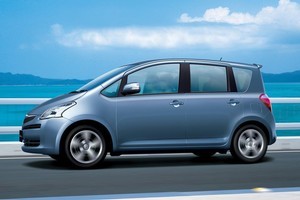 The dilemma:
Richard is an IT guy on the go. He's built up a business installing and servicing computer systems and recently diversified into security and automation.
So things are going swimmingly, except the old Caldina wagon he's been using doesn't suit the company's image.
"I've been keeping an eye open for something else, something more recent, and I've been quite taken by the Toyota Fun Cargo, which I keep seeing," he says. "It seems popular, has the right looks, would carry signage well and is just the right size for what we do."
Buyers' Guide has had several queries about little load carriers lately. They're almost always based on familiar car mechanicals, so the only worry is the local availability of body parts. They're often great alternatives to hatches and wagons.
The budget: $20,000 tops
The shortlist
Nissan Cube
Nissan CubeThere are almost three times as many Cubes for sale right now as either the Toyota Fun Cargo or Ractis, such is its popularity - or the overconfidence of importers.
They mostly have a 1.4-litre engine, although newer ones have a 1.5, as used in the Tiida car. Good five-year-old examples are in the $14,000-$15,000 range, but these are relatively scarce among the cloudburst of earlier models.
Current-generation examples (introduced in 2009) are starting to arrive and worth seeking. Based on the Micra car, the Cube has a good reputation and newer ones have the safety features we've come to expect. There's a variety of options and equipment levels available.
From $14,000
Toyota Fun Cargo
This distinctive-looking mini MPV went out of production in 2004, so it's now getting a bit long in the tooth. However, good low-mileage examples are out there. Based on the Yaris car, the Fun Cargo offers heaps of space for its size and is fun to drive. Good low-mileage (ie around 100,000km) Fun Cargos are in the $7000 range although a top 2004 one will fetch around $10,000. Its 1.3-litre engine is moderately peppy and very economical.
From $7000
Toyota Ractis
Still based on a Yaris, Ractis replaced the Fun Cargo late 2005. Its odd name is derived from Run, Activity and Space. It's a better vehicle than the Fun Cargo, except perhaps for its looks, which drifted closer to the mainstream. All seem to be automatics and most have a 1.5-litre engine, although there's a smattering of 1.3s. Lots to choose from in the $13,000-$17,000 range, but top recent examples with all the gear are still north of $20,000.
From $13,000
Driven recommends
Fun Cargo is a lot of fun, but the newest are coming up to eight years old. Ractis represents everything that's good about Toyota, but is too mainstream. Get a Cube, Richard.