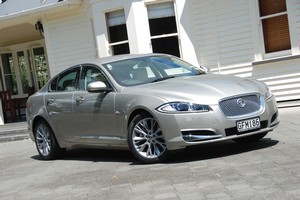 Jaguar hit the ground running in 2012, with an updated XF, prices that drop around 18 per cent and higher specifications for many models. It's on track to beat 2011 sales by mid-March and deal a knockout to parallel importers which last year undercut the official distributor.
What's new The stylish XF gets a revamp, with a larger grille, a more pronounced bonnet bulge, XJ-style slim-line headlights, detail changes to mark the XFR and 3.0DS plus a flourish of LED daytime running lights Jag marketers call "the J blade".
The skin gets triangular side vents, new wheels, a revised rear valance and LED tail-lights to hone already pleasing lines.
Cabin refinements include a new seat and wheel design and some changes to finish, while the engineers have worked on reducing cabin noise, the 2.2 now quieter than 2011's 3.0D.
An eight-speed ZF transmission replaces the six-speed for all diesels. Sporting drivers will love the multiple downshift that takes it from fifth to second gear for rapid overtaking, further assisted by a drop from the six-speed's 300 milliseconds to a 200-millisecond shift time; that's quicker than blinking.
The broader spread of gears cuts the 3.0's thirst from 6.8 to 6.3l/100km.
A longer features list includes keyless start as standard with satnav, a parking aid, full leather and interior mood lighting.
The 3.0DS variant gets the adaptive dynamics electronic damping system similar to the XJ's, a body kit, larger brakes tucked into bigger alloy wheels and an aerodynamic pack.
XKR also gets some styling and specification changes plus new Portfolio and S variants.
The company line
Jaguar brand manager Paul Ricketts buys in NZ dollars hence successful negotiation to drop prices by 18 per cent, with the XF now from $90,000 for the 2.2D to $170,000 for the XFR. The reduction removes the price incentive to buy an unofficial import and risk warranty wibbles.
Ricketts is hanging out for the BMW 3 Series competitor and small SUV on the drawing board for 2015, with the CX-75 also planned for production and the XF wagon on sale in Europe this year.
What we say
Luxury car owners may like to wield power, but those willing to eschew its planet-trampling side-effects will love the 2.2, the same basic powerplant as Range Rover Evoque's but tuned for Jaguar, and its most efficient engine ever. The 140kW power figure isn't startling but 450Nm of torque delivers punch off the line and round town, where you most appreciate it, allied to a 5.4l/100km claimed thirst that'll do wonders for your cash flow.
On the road
The 3.0-litre diesel engine's extra grunt seems like overkill given the 2.2 is so good; you'll rarely want for more in real-world driving. Better still, this chassis will rise to any occasion while delivering the sort of cosseting ride luxury buyers expect.
Why you'll buy one?
XF delivers a stylish and hard-to-beat blend of classic and modern in an easy-to-live-with package that, like the rest of Jaguar's line-up, is priced more competitively.
Why you won't?
It's no longer a Brit-owned brand.