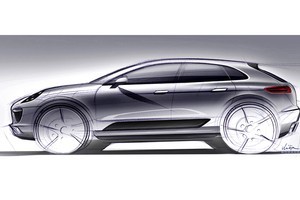 Porsche's baby Cayenne has been given a name, Macan, the Indonesian word for tiger.
A teaser video posted on YouTube has also revealed the first glimpse of the all-new SUV. (See below).
Expected to be based on the Audi Q5 - although with bespoke suspension, damper and brake components - the Macan "combines all sports-car characteristics with the benefits of a SUV", says Bernhard Maier, of the Porsche sales and marketing board.
The Macan is expected to be lower and shorter than the Audi SUV, but 90mm wider, helping to give it a road-hugging profile. The front lights bear a close resemblance to the units fitted to the Cayenne, while the rear gets narrow wraparound tail-lights similar to those fitted to the latest 911.
Inside, the four-seater cabin promises more luxury than the Q5. The centre console will be set higher to cocoon the driver and give the car a small and nimble feel, and the Panamera-inspired dash design and switchgear, set to appear in the new Boxster and Cayman, will ensure the model looks like a true Porsche.
Expect to see a pair of four-cylinder variants, a 175kW 2-litre petrol turbo and a 140kW 2-litre turbo-diesel. Top-spec cars will get either a 3-litre TFSI petrol V6, producing 245kW, or 3-litre TDI with 175kW and 550Nm of torque. Flagship Macans are expected to cover 0-100km/h in less than six seconds.
Porsche has revealed that the Macan will be rolling off the production line in Leipzig in 2013. New Zealand should get the Macan in 2014.