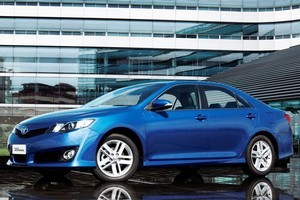 As Toyota New Zealand releases the all-new seventh-generation Camry it reveals that customer feedback was key to creating the medium sedan.
Launched this week, the 2012 Camry will be available in petrol and hybrid versions offering contemporary design and improved driving dynamics.
Toyota New Zealand general manager of product planning Neeraj Lala said: "This new Camry is better in every way. It's faster, it's bigger and it's more economical. We've designed our line-up to suit the needs of New Zealand customers and meet the demands of the current market trends.
"Toyota sought input from customers and, using their feedback, have prioritised development of improved safety systems and quality processes to produce what is arguably the best Camry yet."
As to design, Toyota engineers were faced with the dual challenge of changed market conditions and new competitors entering the market - such as Kia's Optima and the Hyundai i45.
The new Camry is built on a tweaked platform of the previous model and has the same wheel base, but a vastly improved interior space with a noticeable increase in head, knee and leg room.
And it's also on the road that the new Camry shows its improvement, as proven at the launch on Monday.
The 70km drive through Manawatu, then onto the Manfeild race track for 90 minutes to compare the old and new models, highlighted the dynamic handling.
The 2012 Camry combines a new 2.5-litre, four-cylinder engine and six-speed automatic transmission to deliver better performance while considerably reducing fuel consumption and emissions. Hybrid versions unite an adapted version of the 2.5 litre engine with Toyota's proved Hybrid Synergy Drive technology.
The range introduces three distinct looks to appeal to buyers - an entry level GL, two Atara variants, plus the Camry hybrid.
Toyota NZ general manager of sales and operations Steve Prangnell said: "We're going to exceed all expectations with this new Camry. The package is great, the spec and line-up are well-suited to the needs of New Zealand drivers, and [it's] a great drive.
"Our current Camry was the top-selling medium sedan in 2011. With this new car we're aiming to be the No1 medium car, full stop, in 2012."
Camry GL has 16-inch alloy wheels, a multi-information display and an upgraded sound system with six speakers and steering wheel controls.
Atara models have special styling, including the lower body design, a sporty mesh upper grille, prominent side-skirts and twin exhausts. Both Atara grades - S and the sporty SX - have paddle shifts at the driver's fingertips, delivering greater driver involvement and enjoyment.
Atara S has fog lights, 17-inch alloys, rear lip spoiler, smart entry and smart start, reversing camera, dual-zone climate control air-conditioning, 6.1 inch touch-screen display audio, premium steering wheel and gear shift lever and an electric driver's seat with lumbar support.
Atara SX is distinguished by its rear bumper, sports pedals, sports suspension, black tinted headlights and sports leather accented interior.
Fuel economy across the petrol range is 7.8 litres/100km - an improvement of one litre per 100km, which means up to an extra 100km from a tank of unleaded petrol.
Hybrid models are distinguished by blue highlights on the headlight and rear combination lights, as well as hybrid emblems. The Camry Hybrid is available in standard and i-Tech grades.
Top of the range Hybrid i-Tech features a JBL premium audio with 10 speakers, a 7-inch touch-screen display with satellite navigation, reversing camera with back-guide monitor, blind spot monitor, automatic high beam, electric front seats and rain-sensing wipers.
Fuel economy for the Hybrid is 5.2 litres/100km, an improvement over the 6.0 L/100km of the outgoing model.
Pricing on the new Camry is expected to be priced from $45,000, with the outgoing models starting at $43,590.
The seventh-generation Camry will be built in nine countries and sold in 110 nations worldwide. By the end of last year more than 15 million Camry had been sold worldwide, making it the second best-selling Toyota car after the Corolla.
"Camry is a vitally important model for Toyota globally," Lala said. "Camry and Corolla together contribute more than 60 per cent of Toyota's total passenger car sales. We've been selling Camry in New Zealand since 1987, clocking up over 47,000 units. So it's an important model for our local customers, too."