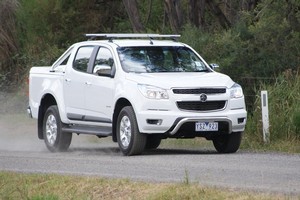 We have a "trip captain". And a "deputy trip captain". Yes, a chain of command. Please stay in convoy. CB radios in all vehicles, but avoid name-specific chatter. Don't say the H-word. Or especially the C-word.
This is just another day at the office if you're a Holden engineer participating in a development drive. But it's a big day out for Driven, because we're getting some proper wheel time in the new Holden Colorado ute ahead of its mid-year launch.
A General Motors project from the ground up, the Colarado is being developed by a team in Brazil but built in Thailand for our market. Holden is the second-largest customer for the Thai truck and has been involved in localising the vehicle from day one.
It'll come with two engines: the most powerful is a 2.8-litre turbo diesel, which is a humble four-cylinder but makes 132kW and 470Nm - as much pulling power as the 3.2-litre five-pot in the Ford Ranger and Mazda BT-50. The smaller powerplant is a 2.5-litre with 110kW/350Nm.
Equipment will include front/curtain airbags, stability control and Bluetooth cellphone connectivity.
Of the 2.8-litre vehicles we're driving, the powertrain is the only part of the mechanical package that's ready. The suspension and cabin trim are still being fine-tuned, although they are indicative of the finished product.
Holden regards Colorado as being pretty close to an Australian ute. "When programmes like this are being framed up, we have input into areas that we think need to be different or unique to Australia," says Scott Doughty, vehicle performance manager for the Colorado programme.
"Once the first prototype vehicles were built about 18 months ago, we [Holden] started driving those vehicles along with the 'home room' in Brazil. Where things need to be unique or special for us, we'll sign those off."
First impressions: love the style. Looks sell a lot of pickup trucks and the Colorado's American-style attitude gives it huge presence on the road.
The 2.8-litre engine is not strong on refinement but majors on muscle - peak torque is delivered at 2000rpm, the six-speed automatic transmission is slick and it'll tow 3500kg. The final suspension package is destined to be heavy-duty: "We have tailored it to be a utility truck that can carry a heavy load," explains Doughty.
You get the impression that Holden is not necessarily aiming for Ranger-like on-road handling. But the potential is there, with independent front suspension and precise rack-and-pinion steering.
But there are questions still to be answered, not least how different the Colorado seven-seat wagon will be to the pickup in terms of handling and ride. It's first and foremost a family vehicle, not an off-road workhorse.
"You'll have to wait and see," says Doughty. "But it's amazing how many different part numbers there will be for that model. The car has to feel right, so it certainly won't have the same shock absorbers as the ute, for example. It'll be tuned for the right application."