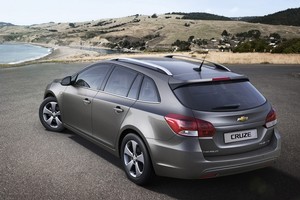 Holden's Cruze started off life as a patently horrific SUV joint-venture with Suzuki, before being turned into a reasonably lack-lustre sedan, which was also badged as Cruze by Chevrolet and as a Daewoo Lacetti Premier overseas.
But the second generation of the sedan saw it come of age and with the excellent hatchback just released in New Zealand, the range-rounding wagon has been expected for some time.
While many see the hatchback as the car Cruze always should have been, its success from straight consumer sales and leases in its four-door form have established it as a badge in New Zealand.
The wagon will make its first appearance at the Geneva motor show next month - in Chevy form - and it is likely to be seen on Kiwi roads by this time next year.
Cruze has become Holden's golden badge, pushing past Commodore on the sales sheets in Australia as hulking V8s and Sixes are replaced with smaller, more economical vehicles.
There have been more than 1 million Cruze models sold globally since 2009, with a large slice of this number in China and the United States.
Holden has been building both at its Elizabeth plant since this time last year, but the wagon will be imported.
"Cruze wagon offers customers a distinctive design, more space, great economy and still manages to offer dynamic driving," said Holden NZ managing director Jeff Murray.
"The Cruze nameplate is an incredible success story for Holden in New Zealand.
"The discerning customer these days is looking for versatility and we are confident that Cruze wagon can only strengthen the Cruze brand."
The wagon is slightly longer than the sedan and hatch at 4675mm, and promises 500 litres' load-carrying space - or 1500 litres up to the roofline with the rear seats folded down.
General Motors is being reasonably hushed on exactly where the wagon spec will sit - although Holden has generously announced roof racks as standard - but once the covers are lifted at Geneva, all will become clear.
Cruze - especially in its facelifted and dramatically improved Series II guise - has built its reputation on high-tech goodies such as colour touchscreen entertainment systems, GPS navigations and near-idiotproof Bluetooth integration, while the SRiV flagship even includes voice recognition.
Since the Series II tart-up, the clean and tasteful design has worked wonders for Holden - but bearing in mind that Cruze replaced the tragic Holden Viva and Astra, improvement wasn't difficult.
Wannabe wagoneers can expect the same wide front, chromed grille and shiny wheels as the rest of the range, plus the same set of interior options as the two other form factors, and under-bonnet offerings aren't likely to step too far from the current 1.8-litre petrol, the excellent 1.4-litre iTi turbo petrol and 2-litre diesel.